Attention B2B ecommerce businesses! Here is good news for you. The B2B online market will reach $20.9 trillion by 2027, according to ResearchAndMarkets' latest reports. And the majority of these transactions will happen on Mobile. The key factors that lead to huge sales from mobile are-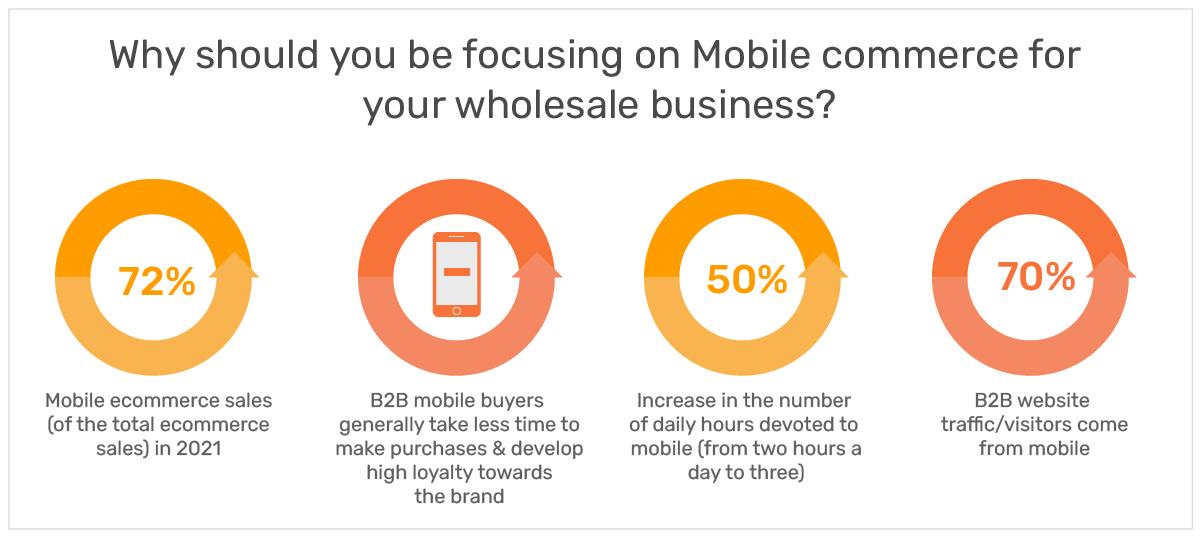 Ways to maximize your B2B sales by adopting mobile commerce approach
1. PWA
An outstanding B2B buying experience is the ticket to get repeat customers. But how to ensure that experience on mobiles? Solution is PWA (Progressive web apps) sites that give app-like experience. PWA sites load quickly even when the buyer has a low internet connection. Hence, giving the opportunity to delight B2B buyers and push them to the end of the sales funnel.
PWA sites help you in appearing on the first page of Google, as Google rewards fast-loading sites. PWA sites when combined with personalized push notifications, help you shorten the sales cycle, enhance your B2B customer loyalty, and build long term relationships.
50% of B2B buyers reported that they will do business with suppliers and wholesalers who offer personalized push notifications.
How can you get more conversions with StoreHippo PWA technology?
With StoreHippo, you can build an app-like B2B shopping site in just a few clicks. Shifting to PWA sites can increase the chances of getting more orders on your B2B site.
Your customers can add your PWA sites on their home screen. Once they add your PWA site on their mobile, you can send relevant push notifications about your offers, launches, etc. This will help you re-engage your B2B customers by inviting them to buy again and maximize your marketing ROI.
2. Mobile-ready online store
According to Google, 50% of B2B business queries were submitted using mobile browsers (source). And B2B ecommerce companies who are investing in mobile-ready sites are witnessing more site visitors, more leads, and more payment transactions. Hence, pushing the annual revenue through mobile.
Additionally, 90% of buyers reporting a superior mobile experience say they are likely to buy again from the same vendor, compared with only about 50% of those reporting a poor experience. (BCG)
How can you build mobile-ready sites with StoreHippo?
StoreHippo ecommerce platform is built on SPA which creates lightweight, super-fast, and SEO friendly sites so that your B2B customers can easily access your site from mobile browsers.
Sites powered by StoreHippo are built on MEAN stack architecture which helps in building future ready sites without any development hassles. With CDN (content delivery network), you can reduce the content delivery time of your site, and deliver a seamless user experience, despite mediocre internet connection and security threats.
Your business can save a lot with StoreHippo CDN as you don't need to invest in expensive IT infrastructure and separate service providers.
3. Mobile apps
Do you want to know a simpler way to capture B2B customers? The answer is B2B mobile apps. And here are 4 most essential elements to consider while building an app -
Once you offer such benefits, you will see a rise in new orders and repeat purchases. Moreover, millennials and Gen Z consumers will be major contributors in boosting online sales as they highly rely on mobile apps for shopping.
How to create stunning B2B shopping apps to convert more buyers?
StoreHippo ecommerce software lets you create B2B ecommerce apps at no additional cost. Don't worry about coding as StoreHippo inbuilt mobile app builder gives you flexibility to create Android and iOS apps for free. You can tweak the User interface according to your B2B business needs.
4. Device optimized themes
Your B2B buyers are now used to the seamless shopping experience they get from the B2C ecommerce website. To meet online B2b buyers' expectations, you first need device-optimized, feature-rich themes. Why? Because they give friction-free navigation and checkout experience on mobiles, tablets, and desktops.
StoreHippo has a library of 100+ themes that are mobile-friendly, device responsive, easy to use, attractive, and are rich with features. You can even edit, customize and add more elements to your theme with drag and drop functionality.
Do you like both the themes you have selected? No problem, you can easily blend the elements of two themes into one and can enjoy the flavor of two. StoreHippo themes function incredibly on all devices - mobile, tablets, and PCs. Overall, there is nothing that our themes can't do.
5. Mobile admin for business on the go
Suppose you are out for some meeting or travelling. Let's suppose you want to access the admin panel of your site to monitor the monthly online sales or daily site traffic, or just want to update the inventory of a particular item which is out of stock. What would be more convenient; mobile admin panel or desktop admin dashboard?
We know how tiring it feels to open a desktop or PC for just a small thing. That's why StoreHippo introduced a mobile admin dashboard.
By using StoreHippo mobile admin, you can easily make changes to your site, monitor sales and performance, check analytics, access reports, track orders, etc right from your smartphone. StoreHippo dashboard works well on mobile and desktops.
Key Takeaways
B2B mobile commerce brings tremendous opportunities to B2B sellers to grow business. The number of smartphone users is increasing. By optimizing your site for mobile devices, you can generate more orders and return clients.
To wrap up, let's quickly learn - How can m-commerce benefit B2B business?
Do you want returning clients /customers through your B2B Ecommerce store?. Get started with a 14 free trial of StoreHippo website builder that supports mobile commerce technologies.