Do you still depend on calling your local electrician, sweepers or beauticians? What if they are out of town or not available due to unfavourable conditions? Don't you feel it will hamper your work? Got my point? To ignore such situations, I will recommend you use other available resources. But where to find them?
The answer is on your mobile. All you need to do is search for 'online service aggregator marketplaces' in your preferred search engine. It will give you a list of online service portals that connect you with local electricians, maids, plumbers, etc. Quite simple and effective!
Need some examples? Let's explore 5 best service aggregators in India that are giving phenomenal services to online shoppers. Also, how you can create a similar multi-vendor marketplace with the best marketplace builder
One of the popular and most successful multi-vendor marketplaces in India has 30,000+ registered vendors on its marketplace.
It sells home services, appliance & electronic repairs, beauticians services, and more
Their services are available to cities- Ahmedabad, Bangalore, Chennai, Delhi NCR, Chandigarh, Jaipur, Hyderabad, Kolkata
Top 4 winning strategies used to acquire new customers
Discounts, coupons, gift cards to increase customer retention and build trust.
Reviews, and service rating of each professional helps a customer in selecting best and affordable under a specific budget.
Mobile app to cut down the booking time of customers wanting to avail a service.
Social media support to connect and engage with customers and to resolve their issues regarding the experience.
This service aggregator marketplace has a record of serving 2 million+ customers and has 65,000+ professional vendors.
This multi vendor marketplace deals with 5 categories of services i.e. home repair, home cleaning, salon at home, appliances repair, and home construction.
Residents of Bangalore, Pune, Delhi, Chennai, Hyderabad, and Mumbai can order their online services.
Top 4 winning strategies used to acquire new customers
Easy to scroll Home page with the use of search bar, widgets, detailed menu, internal linking, and more.
Service categorization like cleaning services, salon services, etc for easy discovery of services and service providers.
One tap login for customers by their mobile numbers.
Mobile responsive website that loads quickly on mobile and tablets.
An on-demand home service marketplace that was recently acquired by QuikrEasy which is an online classifieds company.
Service includes home cleaning, electronic repair, salon, home painting, plumbing, carpentry, etc
They cover 8 cities which include- Mumbai, Navi Mumbai, Thane, Pune, Gurgaon, and Delhi NCR
Top 4 winning strategies used to acquire new customers
Zimmber mobile app for quick and easy service booking.
Two-step service bookings and order tracking.
Supports online payment by integrating their app with 4 mobile wallet companies.
Online tracking of booked professionals is also available.
Want to hire a professional online? Bro4u is the place that gives access to 100+ licensed and skilled professionals, just at a click.
This service marketplace offers services in the category of repairing, photography, recharge, bill payment, home maintenance, cleaning, and legal documentation. In total it provides 90+ services.
Till now, it is available for the residents of 4 cities i,e, Bangalore, Pune, Mumbai, and Hyderabad
Top 3 winning strategies used to acquire new customers
Customer reviews and ratings on the homepage to build customer trust.
Social Media integration on their website by using the best marketplace builder
Effective distribution of service into multiple categories. Like- kitchen cleaning, bathroom cleaning, sofa cleaning, home cleaning, and car repair, AC repair under repair services.
This service marketplace has 23,000+ registered service providers that are generating sales and maximizing their monthly revenue.
A household service aggregator that provides services related to courier, cleaning, pest control, and relocation.
They operate only in one city i.e Bangalore.
Top 3 winning strategies used to acquire new customers
Search button on the top to help customers find the required service in their location.
Customer reviews and ratings of service professionals to provide the best professionals to customers.
Book Now forms on every service page to give location-specific prices on customer's email and phone numbers.
Pro Advice: To create a feature-rich marketplace, monitor the websites of the above brands. This will give you ideas on - How to design your website and strategies to grow it. Here are 10 important features required to build a powerful multi-vendor marketplace.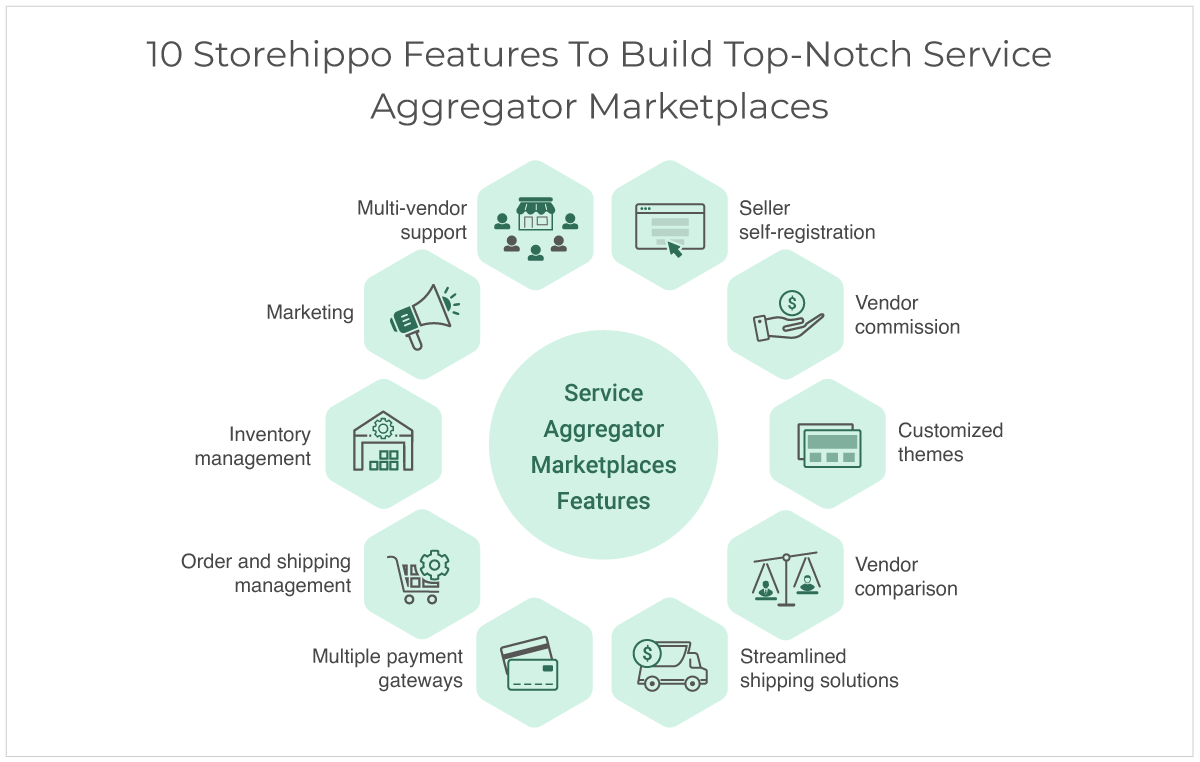 Multi-Vendor Support to let vendors sell their services online. Vendors will have complete freedom in controlling their service requests.

Seller self-registration option. With this sellers can easily approach marketplace owners by filling up the registration form and can submit it for approval.

Marketing, email, and discount tools that let you attract more buyers on your marketplace from different platforms. Platforms can be social media, search engines (Google, Microsoft Bing, etc), and email (Gmail, Outlook).

Vendor Commission Control gives the admin control over fixing commissions for each vendor.

Inventory Management will give an overview of vendor-specific inventory and keep track of available stock and products with them.

Customized Themes that you can edit, update, and design as per your requirements. StoreHippo has 100+ Inbuilt themes that have the power to convert more sales.

Order and shipping management to track the progress of open orders as well as canceled and completed orders.

Vendor Comparison will offer your customers the ability to make informed decisions and increase their satisfaction. In return, you will get customer loyalty and sales.

Multiple Payment Gateways will give freedom of payment to your customer while placing their order.

Streamlined Shipping Solutions: StoreHippo also comes with 30+ preintegrated shipping partners and automated shipping solutions.
To be able to build a successful survice aggregator marketplace, you need advanced ecommerce solutions that help you build a flexible and scalable marketplace. The above mentioned features come power packed with the StoreHippo marketplace builder. You can even customize them according to your preferences and can seamlessly bring together beauty salons, home repair services, plumbing, etc. on a single platform with StoreHippo. You can also set-up location-based sub-stores for different service-providers according to locality, state, or country
Become a service aggregator marketplace, just like Urban Company or Housejoy. Sign up for a 14-day free trial to establish your own marketplace website with StoreHippo website builder.
1. What is a service aggregator multi-vendor marketplace?
A service aggregator multi vendor marketplace is a platform that brings together multiple service providers on a common platform under a brand name. Customers can avail of the services of their choice by choosing any of the service providers. The services offered are in the name of the marketplace brand and not the service provider.
2. What is the main revenue source of the service aggregator marketplace?
The primary source of income on the service aggregator marketplace is the commissions paid by the partners/service providers for every order/booking they receive through the platform. Offering premium services to customers, prominent placement fees from the vendors etc are some other revenue sources.
3. How can I build a service aggregator marketplace with StoreHippo?
You can build a service aggregator marketplace using the built-in marketplace solutions of StoreHippo. You can design a future-ready service aggregator brand with cutting-edge technology, 300+ built-in tools and 120+ integrations offered by StoreHippo.
4. Can I add customer reviews for different providers on my service aggregator marketplace?
StoreHippo comes with a built-in reviews management system that helps you collect, manage, publish and use customer ratings and reviews to your advantage. You can easily get reviews and ratings for different service providers added to your aggregator marketplace. You can also send customer feedback forms or surveys to your customers to get their reviews and feedback.
5. How can I manage multiple service providers on my marketplace?
You can easily onboard and manage your service provider vendors on the service aggregator marketplace. StoreHippo offers a detailed vendor management module to seamlessly handle and manage multiple vendors right from onboarding, to vendor ledger management, commissions and payouts etc.
6. Can I build a hyperlocal service marketplace?
Yes, you can build a hyperlocal service marketplace with StoreHippo's hyperlocal and multi vendor solutions. You can manage various aspects of hyperlocal commerce like quick deliveries or fast service by using built-in features i.e. helping service providers reach customer locations via exact location and other features, delivery boy module to track and streamline local deliveries etc.
7. How can I make my service aggregator marketplace user friendly?
You can make your service aggregator marketplace user-friendly with the help of customized themes that you can edit, update, and design as per your requirements. StoreHippo has 100+ in-built themes to help you cater to unique business requirements. You can also add features like chatbots and live chat to assist your customers. You can also give customer dashboards to your buyers so they can track and manage their orders easily.
8. Can customers directly book appointments on my online marketplace?
Yes, customers can directy book services on their preferred dates on your online marketplace. You can also customize your service booking by adding a calendar on your service pages. You can also customize your booking schedule to enable your clients to book their preferred slots.
9. Can I offer personalized user journeys to my customers?
Yes you can. StoreHippo is an easy to use platform, built on the headless commerce architecture helping brands build personalized customer journeys across multiple customer touch points. You can win loyal customers by offersing personalized service packages and deals.
10. Will StoreHippo support my service aggregator business diversifying to new services?
Yes, you can diversify to new services at any time with StoreHippo solutions. StoreHippo's inherent scalability supports your business whether you have a few sellers and customers or grow rapidly to reach millions of customers and thousands of sellers.