Ahh — those never-ending sales cycles on B2B marketplaces.
It can be so frustrating trying to move potential customers along, only to have them stall at some point along the way.
Every B2B enterprise has experienced the frustrations of a long and arduous sales cycle at some point in its journey. There are a lot of moving parts, and it often takes months (or sometimes even years) to land a deal.
But what if there was a way to shorten your sales cycle? A way to make it easier and faster for your potential customers to find your products, learn about them, evaluate them, and make a purchase?
Wonder if it is possible?
Well, yes, it is!
And to do it, you need to modernize and equip your B2B marketplace with features and tools that equip your clients to self-serve quickly and efficiently. Why it is important to have Self-Service On your B2B Website
Not sure why self-service is so important. Have a look: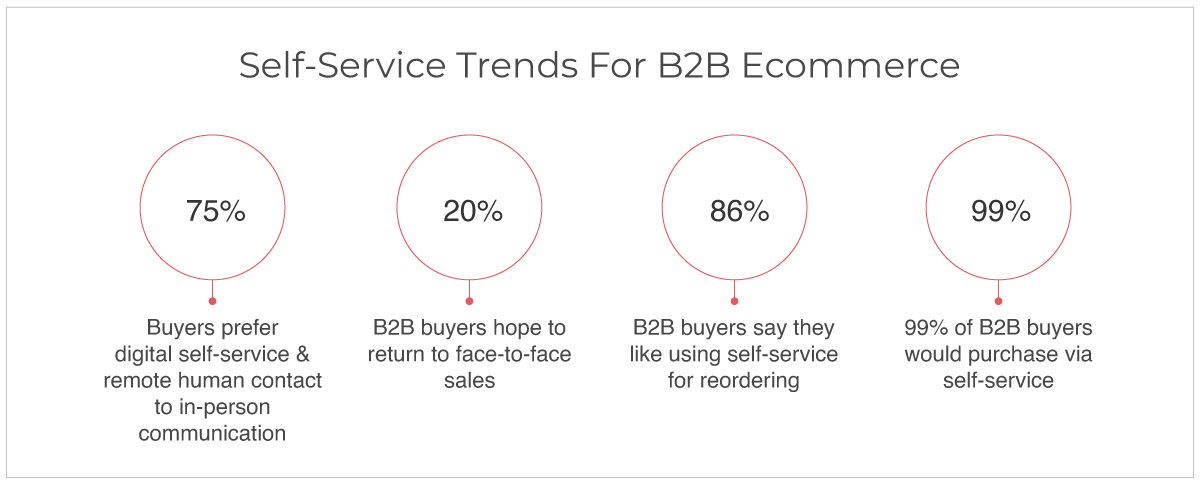 75% of buyers prefer digital self-service and remote human contact to in-person communication;

Only 20% of all B2B buyers hope to return to face-to-face sales.

86% of B2B buyers say they like using self-service for reordering.

99% of B2B buyers would purchase via self-service
Source: McKinsey

Self-servicing hugely cuts down on the multiple rounds of negotions needed during a B2B order process. B2B Marketplaces should have the right self-service tools and features in place to help enterprise buyers easily navigate through multiple sellers for each product, compare their prices and finally make an informed decision.
Advantages of a shorter B2B sales cycle
A shorter sales cycle means you'll make more sales in less time. Here is how a shorter sales cycle helps your business
Save time
If you are a seller, would you want to spend your time on low-value tasks like answering basic questions or sending product information? Of course not. You want to spend your time on high-value tasks leading to more sales. This is why self-service can save a lot of time for both the buyer and the seller. For buyers, it allows them to find what they're looking for quickly and easily without having to wait for a salesperson to get back to them. And for sellers selling on the B2B online marketplace, it frees up their time, so they can focus more on sales.
Reduce costs
Self-service can reduce costs for both buyers and sellers. Like most things in business, the B2B sales process is all about making money. The key to success for both parties is efficiency — getting what they want as quickly and cheaply as possible. For buyers, it allows them to purchase what they need without paying for a salesperson's time. And for sellers, it reduces the cost of customer acquisition and customer service.
Increase efficiency
Self-service can increase efficiency for both buyers and sellers. Self-service aims to make finding and buying products easier and faster for buyers. For the B2B marketplace buyers, it allows them to purchase what they need on their own schedule without coordinating with a salesperson. This allows buyers to quickly and easily get what they need without waiting for a salesperson to become available. And for sellers, it allows them to focus their time on more complex sales.
Improve customer satisfaction
Self-service can improve customer satisfaction. Customer is likely to be more satisfied when they can find and buy the products they need without engaging with a salesperson. Self-service helps buyers and sellers avoid the frustration that can come with a long and drawn-out sales process. For buyers, it allows them to find what they're looking for quickly and easily without waiting for a salesperson to get back to them. And for sellers, it reduces the cost of customer acquisition and customer service.
Increase sales
Last but not least, self-service can increase sales in a B2B marketplace. For buyers, it allows them to purchase what they need on their own schedule without coordinating with a salesperson. And for sellers, it allows them to sell more products in less time by reaching a wider audience of buyers.
How to shorten sales cycles on a B2B Marketplace
Expectations are changing very fast in the B2B business market. Now, more than ever, customers expect a streamlined, self-service experience that is fast, efficient, and easy to use. To meet these expectations, businesses must rethink their sales and marketing approaches. To rethink their sales and marketing approach, companies must understand how the buyer's journey has changed. This can be possible by modernizing and equipping your B2B marketplace with features and tools that enable your clients to self-serve quickly and efficiently, and you can shorten your sales cycle considerably.
Let's understand it better with an example.
Suppose a client intends to buy 200 office chairs from your B2B enterprise. In the traditional setup, you will gather the requirements from the clients, send the requirement to your suppliers or distributors and ask for quotes from them. This might take from a few days to weeks. Next, the quotes will be sent to the client who decides on the final price and the sellers, sends you the feedback. Again you discuss prices with your dealers and sellers and after a few rounds of to and fro the deal is finalized.
Compare this to a modern B2B online marketplace where the client can see the available seller and their prices for a given quantity of chairs, ask them for quotes and approve or reject the quotes.
And yes, all of it is done just in a few clicks.
It is high time for enterprise business-to-business brands to update their strategies and move towards a B2B marketplace model that prioritises the self-service model. Working with a robust e-commerce platform which offers the best B2B ecommerce solutions along with built-in tools to quicken the sales process is what your enterprise brand needs. After all, your goal is to make it as easy as possible for your potential customers to find your products or services, learn about them, and purchase them — all on their own schedule.
Why is self-service important in B2B marketplaces
Generate traffic. Capture Leads. Convert them quickly. That's the goal of any business with a website. But for B2B businesses, the path to conversion is often long and winding, with multiple decision-makers involved in the process. However, by making self-service is a key component of your B2B online marketplace, you can make purchasing decisions easier for your customers.
Self-service in B2B commerce has all the same hallmark features as self-service in B2C ecommerce, but there are a few key differences that make it even more important in the B2B space.
For example, in B2B commerce, buyers often look for customizations or specific product configurations that might not be needed on a B2C site.
Additionally, B2B buyers are usually more price-sensitive than B2C consumers, so it's important to give them the ability to compare pricing and find the best deal easily.
Finally, B2B buyers often need to consult with their colleagues or superiors before making a purchase, so it's important to allow them to share product information available on a B2B marketplace and get feedback easily.
As more buyers turn to the internet to research their purchase decisions, B2B businesses need to provide a self-service experience that meets their needs. By offering robust product information, easy price comparisons, and simple ways to share information with colleagues, B2B marketplace brands can make purchasing decisions easier for their customers and shorten the sales cycle. All of these factors underscore the importance of self-service in B2B ecommerce.
How to introduce self-servicing to shorten the B2B marketplace sales cycle
If you're not already offering self-service in your B2B ecommerce operation, it's time to introduce it.
Here are a few tips to get started:
Platform: The first step is to choose the right ecommerce platform. Look for a platform that offers the features and functionality you need to support self-service, such as product configurators, price comparison tools, and easy sharing features.
Software Tools: The next step is to choose the right software tools. Look for tools that are easy to use and configure and that offer the features and functionality your buyers need.
Content: The third step is to create content that supports self-service. This includes product descriptions, how-to guides, FAQs, and more.
Checkout: The fourth step is to streamline your checkout process. Make sure it's easy for buyers to find what they need, add items to their cart, and complete their purchases.
Customer Service: The fifth and final step is to ensure you have the resources to support self-service. This includes customer service, technical support, and training.
Store Hippo makes it to the top of the list with its cutting-edge technology ( MACH architecture and decoupled headless solutions) and built-in features to support self-service ecommerce. B2B marketplace websites powered by StoreHippo get a variety of built-in features and tools to implement self-service.
Five must-have features on your B2B marketplace to shorten your sales cycle
Self-service in B2B is the need of the hour. It shouldn't be viewed as a threat, but as an opportunity to better serve your customers and create a niche for your brand.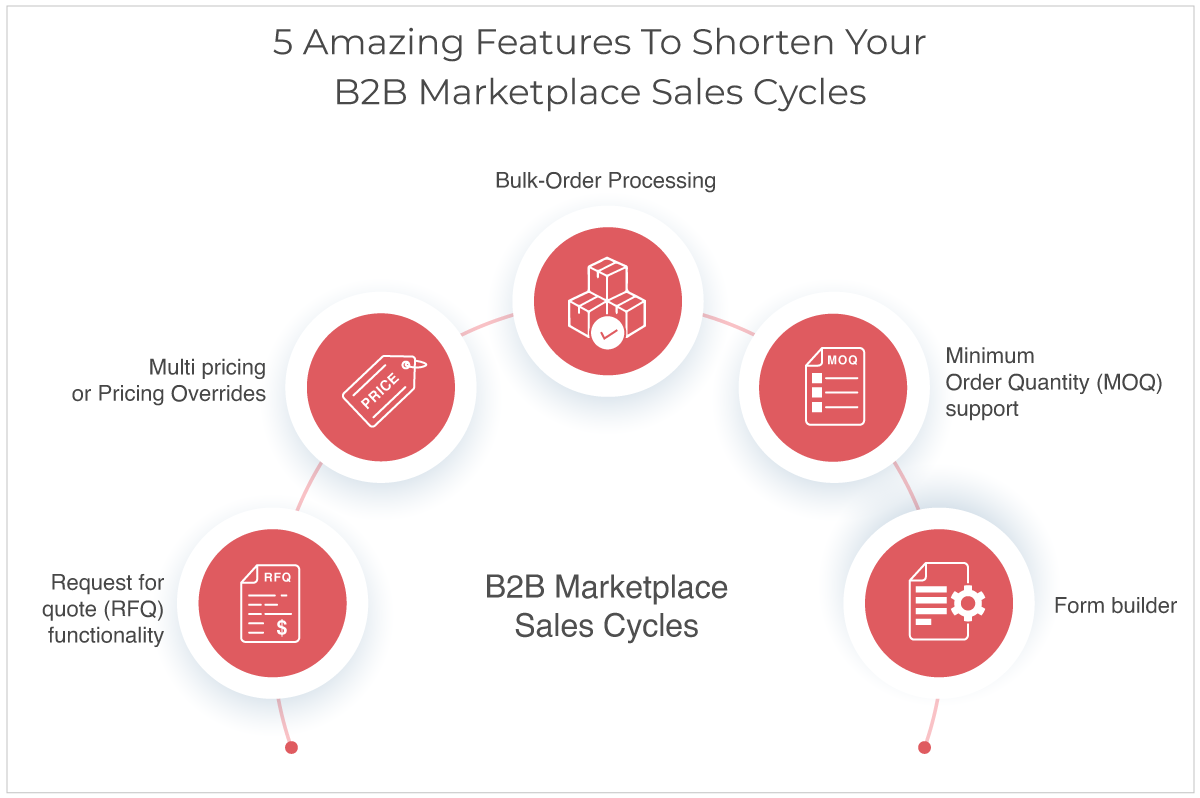 To help you get started, we've put together a list of five must-have features for your B2B marketplace:
Request for quote (RFQ) functionality
With the term B2B online marketplace, the first thing that comes to mind is an RFQ feature. It is a must-have for online marketplaces that follow the B2B commerce model. Think like this: a customer visiting your website has found the product they need, but the price is not mentioned anywhere. The only way to get that information is to contact the seller directly and ask for a quote. This method is time-consuming and often requires follow-ups. Including an RFQ feature on your website will save lots of time for both the customer and the seller. The buyer can easily submit their requirements (product, quantity, delivery date, etc.) and receive quotes from multiple sellers
An RFQ is all about the buyer requesting quotes from multiple sellers for the products or services they need. The sellers respond with their quotes, and the buyer can compare the prices and choose the best option. This feature is beneficial for both buyers and sellers. Buyers can save time by getting multiple quotes at once, and sellers can get more visibility for their products and services.
StoreHippo B2B ecommerce solutions comes with an inbuilt RFQ functionality, which makes it easier for your wholesale marketplace to receive requirements from your clients and process them faster. With an easy process of assigning, tracking, and closing the relevant vendors on your B2B marketplace StoreHippo enables fast decision-making for your customers. Your wholesale buyers would get their best quotes, and you, as a marketplace owner, would be able to save time and resources.
Multi pricing or Pricing Overrides
The pricing of the products is one of the most important factors for the buyers in a B2B marketplace. They want to be sure that they are getting the best possible price for the products they need.
Think like this, if you are a B2B buyer, will you buy a product at the same price as a retail customer?
No, right?
You would want to get it at a lower price because you are buying it in bulk. This is where multi-pricing or pricing overrides come into play. The multi-pricing feature allows sellers to set different prices for different buyers, and this is based on the quantity of the product being purchased, the buyer's location, and other factors. This is a key feature for B2B marketplaces because it allows sellers to offer differential pricing and discounts to buyers, which can reduce negotiations and shorten the sales cycle.
StoreHippo's exclusive pricing override feature lets you set different prices for different customer groups. You can also offer price discounts and coupons to your clients, which they can use to get lower prices on your products. Personalized pricing offers like different pricing to buyers based on their location, the number of products they buy, etc., can help you close your deals desirably.
Bulk-Order Processing
The b2b buyers usually purchase products in bulk, which means that the sellers need to have a system to handle these large orders. The orders need to be processed quickly and efficiently to avoid any delays. Streamlining the order process with features like automated shipping, multiple payment options, and efficient order management help sellers to keep your buyers happy and reduce the chances of them going to a competitor.
Along with these, the bulk order processing feature cuts down on the time needed to visit each order page separately and then process the orders. We know that B2B orders have a deferred payment cycle also, say the order gets paid after a period of 30, 60 or 90 days from the date of invoice or shipment. Processing orders in bulk enables sellers to generate invoices quickly and rapidly for bulk orders.
StoreHippo B2B ecommerce solutions have built-in bulk order processing and bulk invoicing features which enables your sellers and distributors to process orders quickly and save significant time in closing the sales cycle. With a comprehensive built-in OMS your sellers can easily keep track of their inventory levels. The automated order management system sends sellers and buyers notifications about their orders' status, which helps to avoid confusion and keeps everyone on the same page.
Minimum order quantity (MOQ) support
This is a common requirement in the B2B marketplace because sellers often need to sell products in bulk to buyers. The minimum order quantity (MOQ) is the smallest amount of product that a buyer can purchase from a seller.
The seller usually sets MOQ based on the cost of the product, the availability of the product, or other factors. Some sellers might have a high MOQ because they need to sell products in bulk to make a profit. Others might have a low MOQ because they want to encourage buyers to purchase their products. In both cases, the MOQ is an important feature for offering self-service and reducing sales cycle time.
StoreHippo B2B ecommerce solutions come with a built-in MQM feature to help your sellers in setting up a minimum viable order quantity. With the MOQ feature in your B2B marketplace, you are able to reduce the negotiation cycle wherein buyers and sellers both are clear on the minimum products that can be ordered. MOQ not only shortens the sales cycle but also boosts profitability for your sellers and helps them in getting bigger orders.
Form builder
A form builder is an online tool that allows you to create forms without coding. You can use a form builder on your B2B marketplace to create contact forms, surveys, registration forms, proposal forms and more. A form builder can also be used to create custom fields for your marketplace, like a "company size" field or an "industry" field. This allows you to segment your users and tailor your marketplace to their needs.
Overall, the main benefit of adding different forms on the b2b website is that it helps collect buyers' data, understand their needs, and take action accordingly. A form can also help to streamline the sales process by automating tasks like sending follow-up emails or adding buyers to a mailing list.
Know your customer better by using StoreHippo's pre-built forms or create your own custom forms with the customizable form to collect the necessary customer information. After fetching the information, use that data to segment your buyers and target them with more personalized messages. You can even plan strategic marketing campaigns based on the collected data by offering your buyers customized deals and pricing.
Some nice to have features on your B2B marketplace to shorten your sales cycle.
While the above feature help in shortening the sales cycle on a B2B website, here are a few other features that further enhance selling on a B2B marketplace.
Discount Engine
Discounts are a key feature for B2B marketplaces because they allow you to offer special deals to your buyers. You can use discounts to offer price breaks for bulk orders, attract new buyers, or loyalty programs. Discounts can also help you to clear inventory quickly.
StoreHippo B2B ecommerce solutions offer a built-in discount engine that allows you to create and manage discounts easily. You can even offer discounts at the product, cart, or customer levels. You can also use the discount engine to create loyalty programs and offer rewards to your best customers.
Personalized Marketing
In this era of hyper-personalization, personalized marketing is the way to improve your marketing ROI and increase your B2B sales.
Personalized marketing is a key feature for B2B online marketplaces because it allows you to target your buyers with custom messages and deals. You can use personalized marketing to offer special deals, promote new products, or simply thank your buyers for their business.
StoreHippo offers a gamut of built-in marketing tools. Along with its headless architecture and the tools B2B marketplace brands can easily customize their marketing and send custom messages to your buyers based on their purchase history, location, or other factors. You can even create marketing campaigns triggered by specific events, such as a buyer adding an item to their cart but not completing the purchase. You can also create custom landing pages for your buyers with dynamic marketing pages and with marketing automation, you can automate your marketing tasks, such as email marketing, strategic planning, and more.
Conclusion
Sales cycle management and marketing automation are two of the most important features of any B2B online marketplace. They help to streamline the sales process and increase your profit margins. If you're not using these features, you're missing out on a lot of potential revenue. The more you automate, the more time you'll have to focus on other aspects of your business.
For this, you got to invest in cutting-edge B2B ecommerce solutions, like StoreHippo. We offer fully hosted and managed B2B ecommerce software that provides you with all the necessary features and tools to build a successful B2B marketplace. With its out-of-the-box B2B features, you can implement a variety of solutions to shorten your B2B sales cycles.
To get the most out of your B2B online marketplace, sign up for a free trial of StoreHippo today.