The grocery industry is one of the world's oldest and most essential industries. And with millions of big and small players, it is also among the most competitive. Even bigwigs like Amazon, Walmart, and Grofers constantly innovate and update their catalogs and offerings to ensure they provide their customers with the best possible experience.
One of the biggest trends in the grocery business right now is omnichannel. This means providing a seamless customer experience across all channels, in-store, online or mobile apps.
Did you know that using 3+ channels increases order rates by a whopping 494%? Also, retailers who don't sell on multiple channels miss out on 30% of their sales.
Terrific insights, aren't they?
Wonder how can your grocery direct-to-consumer brand take advantage of it?
In this blog, you'll find the answers.
Omnichannel marketing is a strategy businesses use to provide a consistent customer experience across all channels. This includes using multiple channels such as brick-and-mortar stores, e-commerce, mobile, social media, and more.
Omnichannel marketing aims to create a seamless experience for customers, no matter how they engage with the brand. This means that businesses need to understand their target audience clearly and what channels they are using.
Think like this, a customer starts their shopping journey on your website, adds a few items to their cart, but then gets busy and doesn't complete the purchase. The next day, They pull out their phone, open your app, and see that the items are still in their cart. They finish their purchase and get fast delivery.
Let's check out some of the trends observed in the omnichannel sphere over the years.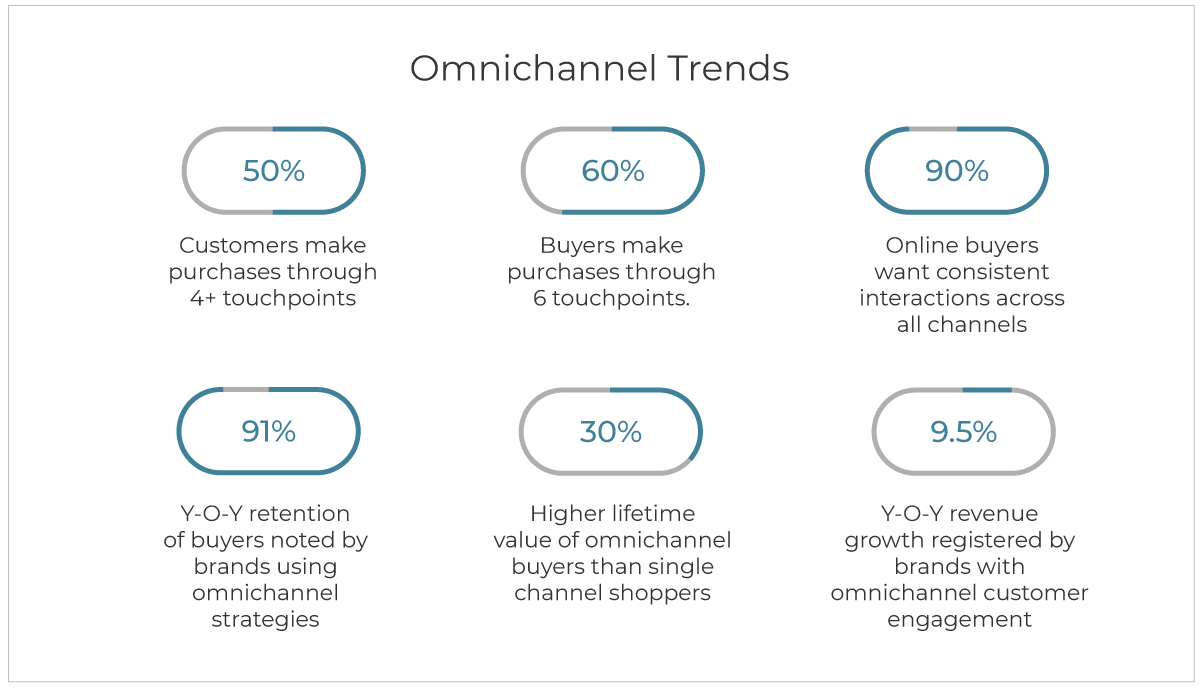 50% of customers make purchases through 4+ touchpoints

60% of buyers make purchases through 6 touchpoints.

90% of online buyers want consistent interactions across all channels

91% y-o-y retention of buyers noted by brands using omnichannel strategies

30% higher lifetime value of omnichannel buyers than single channel shoppers

9.5% year-over-year revenue growth registered by brands with omnichannel customer engagement
D2C grocery brands must embrace omnichannel for long-term success. Here are four reasons why:
In the age of Amazon, customers are used to being able to buy anything they want, whenever they want it. They expect the same level of convenience from your grocery store.
By offering an omnichannel experience, you're showing customers that you're invested in meeting their needs. This builds trust and credibility, which are essential for any successful business.
Omnichannel experiences create loyalty by enabling customers to connect with your brand on their terms. When you make it easy for customers to shop with you, they will likely become lifelong fans.
Omnichannel experiences are essential for driving sales. Businesses that offer unified multi-channel experiences see a 91% increase in customer retention and a 30% increase in customer satisfaction.
Omnichannel experiences generate insights that can help you improve your business. By tracking customer behaviour across all channels, you can identify areas of opportunity and make changes accordingly.
There are many ways to create an omnichannel experience for your customers. Here are a few ideas to get you started:
The goal of omnichannel is to create a seamless customer experience. This means making it easy for customers to shop with you, no matter how or where they reach out to you.
Customers should be able to shop with you in-store, online, and through mobile devices, and this gives them the flexibility to shop on their terms.
Omnichannel experiences generate a wealth of data that can be used to improve the customer experience. By tracking customer behaviour across all channels, you can identify areas of opportunity and make changes accordingly.
Technology is essential for omnichannel success. Invest in a customer relationship management (CRM) system and make sure your employees are trained to use it. This will help you keep track of customer data and create personalized experiences.
Omnichannel experiences should be consistent across all customer touch points. This means bridging the gap between online and in-store shopping experiences. For example, you can offer in-store pick-up for online orders or allow customers to return items bought online in-store.
In India, Amazon has been piloting a new grocery service called Amazon Fresh. Imagine being able to order your groceries online and have them delivered to your doorstep within two hours. That's the level of convenience Amazon Fresh offers.
Despite huge competition from Amazon and Flipkart, Big Basket has maintained its position as India's leading online grocery store.
The secret to their success?
An omnichannel approach.
The company offers a mobile app, an online website, and brick-and-mortar stores. Customers can shop how and where they want, making it easy to get the groceries they need.
This company needs no introduction. Walmart is a powerhouse in the world of retail, and they have successfully implemented an omnichannel strategy. The brand focuses on providing a seamless customer experience across all channels, including in-store, online, and mobile.
While selling across channels connects your brand better with your customers, you still need a smart and strategic marketing plan to grow your sales. Here is how you can nail omnichannel marketing for your grocery D2C brand:

The first step to creating consistent brand experiences is to define your brand's voice and tone. This will help you ensure that all of your content—from your website copy to your social media posts—sounds like it's coming from the same place.
To define your brand voice and tone, start by thinking about the following questions:
What are your brand's core values?

What are your target audience's demographics?

What are your brand's unique selling points?
Answering these questions will help you zero in on the voice and tone that will resonate with your target audience. For example, if your brand values are playful and approachable, your voice and tone should reflect that. On the other hand, if your brand is more serious and luxurious, your voice and tone should be accordingly.
StoreHippo comes with a powerful blog engine that helps 𝐠𝐫𝐨𝐜𝐞𝐫𝐲 brands build a strong online presence through content. You can build a variety of content and use it along with other marketing tools to create a brand tone that helps your growth by educating, persuading and converting your customers. You can also create content that reflects your brand personality, and produce content that aligns with it.
In addition to having a consistent voice and tone, it's also important to create visually consistent experiences across all touchpoints for your D2C grocery brand. This means using the same or similar colors, fonts, and imagery in your website design, social media posts, email marketing campaigns, and other marketing materials.
Creating visually consistent experiences will help your customers easily recognize your grocery brand, no matter where they see it. And when your brand is top of your customers' mind, you're more likely to convert leads into buyers.
With StoreHippo's theme design library, you can create a stunning-looking grocery store website that is 100% editable and mobile-friendly. You can also customize your themes quickly for your campaigns and seasonal offers with built-in drag and drop tools. What's more, you can even have device-specific themes or unique themes for each of your location-based stores.
Optimizing your online store for mobile is essential for creating a seamless omnichannel experience for your customers. In today's world, more and more people are using their phones to shop online, and nearly 80% of all ecommerce traffic now comes from mobile devices.
You will likely lose customers if your online store is not optimized for mobile. Make sure your website is responsive and easy to navigate on a mobile phone. In addition, consider creating a mobile app for your store. This will give your customers another way to shop from your grocery D2C brand and make it even easier for them to purchase your products.
Headstart your D2C grocery business with StoreHippo's robust mobile commerce solutions. With StoreHippo you can create multiple mobile touchpoints for your customers like PWA sites that work like native apps even on entry-level devices and slow internet connections, and an inbuilt mobile apps builder to build Android and iOS apps. Offering a mobile website along with mobile apps is doubly advantageous for your brand as it not only adds additional sales channels but also helps your brand in connecting better with far off markets and customers via PWAs.
To create a seamless omnichannel experience, you need to integrate your systems. This means connecting your ecommerce platform with your point-of-sale (POS) system, customer relationship management (CRM) system, and any other software you use.
Integrating your systems ensures that all your channels work together to provide a consistent customer experience.
This will make it easier for you to track customer data, manage inventory, and process orders. In addition, integrating your systems will allow you to offer features like click-and-collect and in-store returns. These features can further enhance the customer experience and make it even easier for customers to shop from your grocery D2C brand.
StoreHippo ecommerce platform comes with 120+ built in integrations and integrates seamlessly with any chosen software or service provider of your choice. You can also add your preferred logistics and payment gateways to make checkouts frictionless and deliveries streamlined.
Doesn't this rich integrations ecosystem make running and managing an omnichannel grocery brand even easier? It sure does!
An omnichannel marketing campaign is a coordinated marketing effort that uses multiple channels to reach customers. Such marketing campaigns aim to provide a seamless customer experience and create a cohesive brand message across all channels.
Some examples of these successful marketing campaigns are:- Walmart's Back-to-School campaign: For its back-to-school campaign, Walmart created a TV commercial, print ads, digital banners, and social media posts featuring the same messaging and branding.
Tips for creating an omnichannel grocery brand's marketing campaign: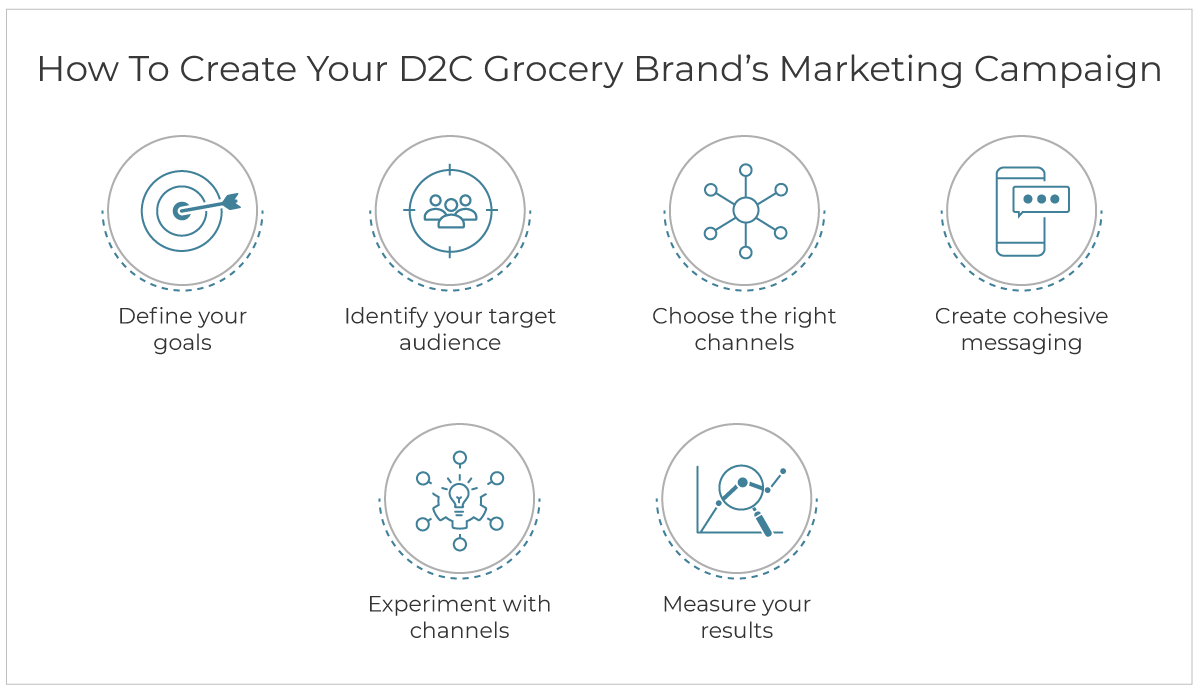 Here are the tips to create a successful multi-channel marketing plan for your grocery and daily essentials brand:
Define your goals: What do you want to achieve with your marketing campaign?

Identify your target audience: Who do you want to reach with your marketing campaign?

Choose the right channels: Which channels will you use to reach your target audience?

Create cohesive messaging: Ensure your omnichannel marketing campaign has a consistent message across all channels

Experiment with channels: Do A/B testing for different channel and product mixes in different markets to find the channels and products that maximize ROI

Measure your results: Track your progress and measure the results of your marketing campaign
StoreHippo offers a variety of inbuilt marketing tools like a discount engine, abandoned cart follow up, dynamic marketing pages, unified notifications ( email , SMS, web and mobile push) along with seamless integrations with popular marketing and analytics tools like Google tag manage, Facebook Pixcel, live chat software, mailing software, Google analytics etc. to help brands plan, strategize and measure their marketing campaigns.
As the grocery landscape continues to evolve, omnichannel will become even more important for success. By offering a seamless customer experience across touchpoints and integrating your systems, you can create a successful omnichannel strategy for your grocery D2C brand. StoreHippo helps you achieve this with its decoupled API-based headless architecture that uses the same backend logis and APIs to create multiple frontends quickly.
From product management to payment gateways, StoreHippo's omnichannel solution has got you covered. The StoreHippo ecommerce platform provides everything you need to create a successful online D2C grocery store and take it multi-channel. With its easy-to-use, DIY ecommerce builder and support for diverse business models like B2B, D2C, B2C, online marketplaces, multi storefronts, hyperlocal ecommerce etc. you can easily adopt one or many of these models to build a customized hybrid model for your multi-channel grocery brand.
Ready to build your market-defining omnichannel grocery brand? Get started right away with our 14-day free trial!