Some ecommerce models have stood the test of time and proven to be a sure shot formula to success.
Multi-store ecommerce is one of them.
From Walmart to Big Bazar, from Dominos to Haldiram's, from Macy's to Reliance trends, multiple storefronts has been an omnipresent model, solidifying and making the respective brands a success story to follow. And, when we talk about ecommerce, the Amazon juggernaut has given a whole new meaning to the multi store ecommerce model.
Oh! How we love the internationalization and localisation on each of the country-specific Amazon substores!
Given the host of benefits of this battle-tested formula, it's no wonder that large brands are opting to build multiple online storefronts rather than creating a single online store.
Having multiple storefronts makes it easier for your brand to create a strong presence. While you have a wide presence you can easily strategize and dedicate unique storefronts for a given geography, language, product line, audience segment etc.
What's more you can create personalised buyer journeys on each of your multi store ecommerce storefronts based on your customers' buying preferences. You can even strategize your marketing and offer discounts and promotions that work best for a given geolocation or audience segment.
You can not only enhance the online shopping experience of your customers but can also be assured of better business and growth opportunities in this setup. The multishop website has some practical advantages in a regular store or having multiple stores.
A successful business is one that is able to implement smart marketing and maximize its ROI. However, you need the right setup to experiment with a number of different strategies.
A multi-store setup gives you tremendous flexibility to experiment and explore. It makes it easier for you to understand the unique behavior patterns and purchase choices of segmented customers on each store. This input, when combined with the right marketing mix, results in higher profit margins and gives you the opportunity to make quick improvements in each store for better results.
Offer a set of products exclusively on each store.

Apply special discounts for single or basket of products to improve ticket size.

Set different discount coupons across the storefronts to attract new as well as repeat customers.

Quickly replace the non-performing deals with the best-performing ones.

Analyse the best performing time slots on each sub-store.

Offer special limited period deals and coupons to maximise sales during these time slots.

Optimize shipping costs by using the most economic shipping partner on each sub-store

Offer personalized deals for repeat customers.

Offer special pricing for target customer segments.
But to make this all happen smoothly and seamlessly, you need the best multi store ecommerce platform like StoreHippo. Our comprehensive ecommerce solutions for multi store not only enable brands to build multiple storefronts but StoreHippo also offers inbuilt analytics and reports that help you track customer behaviour.
Along with these, StoreHippo offers easy integrations with Google analytics and any other marketing software of your choice. You can use the built-in discount engine to plan a variety of discounts and coupons for your multi store ecommerce storefronts.
What's more you can easily build dynamic marketing pages or add custom forms to gather additional information from your customers. StoreHippo best ecommerce platform also offers unified notifications to help you send real time deals to your customers and convert them easily.
Ecommerce is all about business beyond borders. The growth of cross-border ecommerce is proof how brands are solidifying their presence in global markets. Did you know that cross border ecommerce sales are expected to grow from 15% of total ecommerce in 2016 to 22% of total ecommerce sales by 2022.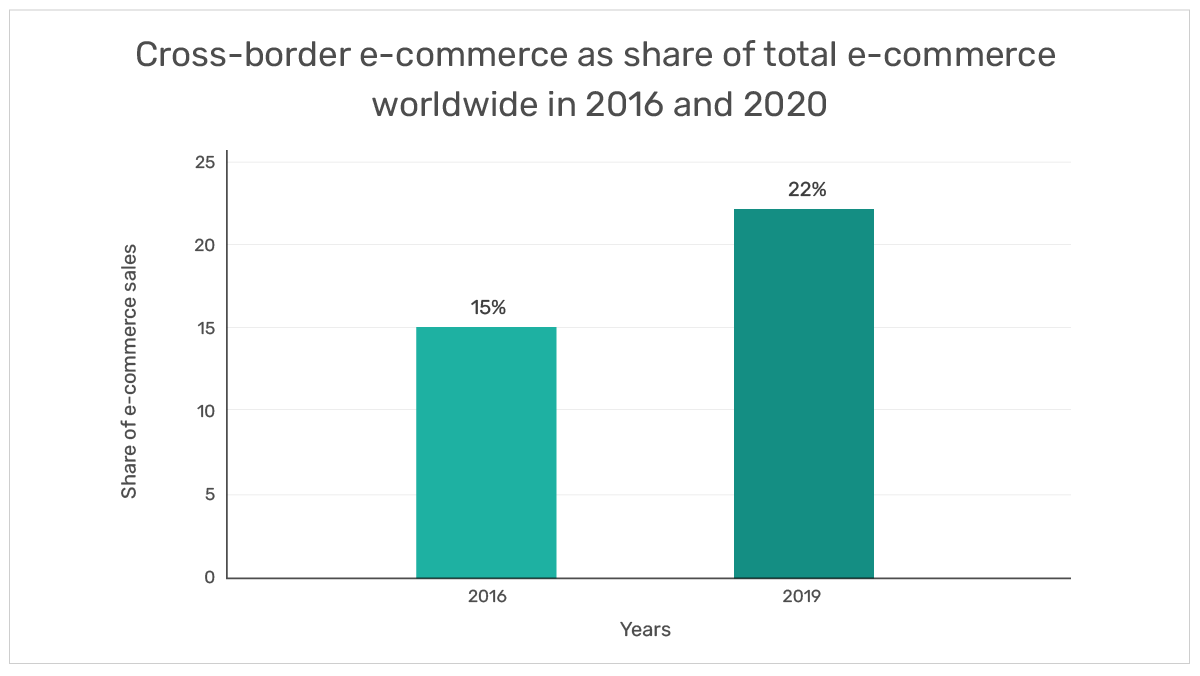 Source: Statista
If you have been planning to take your brand to global markets, multi store ecommerce makes it easier for you. All you need is a flexible and scalable platform that comes with inbuilt go global capabilities and allows you to explore new markets for your product or services.
Once you choose the best ecommerce platform for your brand you can quickly roll out multiple location-based storefronts. This will allow you to create extremely personalized storefronts to cater to the unique requirements of your target audience segments from diverse geolocations.
You can get the best results from location-based multi storefront setup when you also take care of the following;
Create a personal connection with your customers by offering storefronts in their local language

Offer native currencies as the payment option to avoid hassles of the exchange rate

Offer local logistics services on each storefront designated for a given geolocation

Apply different tax rules on the multi-shop website depending on the tax regulations of a given country

Offer local payment gateways to facilitate seamless checkout

Setup pricing overrides based on product quantity or customer segment

Set up different festive-season sale offers depending on the native region of the sub-store

Optimize keywords to suit local search preferences in English or native language.

Design store themes that have elements of native culture and heritage and resonate well with targeted customers
Seems like a lot to do? Well this can be done easily with StoreHippo multi store ecommerce platform. With the inbuilt support for multilingual ecommerce you can add 100+ languages on your sub-stores including RTL languages like Arabic, Hebrew etc. What's more, the drag and drop design theme lets you create different designs for each of your storefront. Even are themes offer full support for multilingual and RTL languages. You can use IP or login based pricing overrides to create profitable product mixes for diverse client segments.
With 60+ integrated domestic and international payment gateways you can offer multi-currency checkouts to your customers. The powerful tax-engine allows you to add region based taxes in a hassle-free manner. You can also use the 30+ pre integrated logistics partners or add your custom shipping provider for different locations. The inbuilt delivery boy module of StoreHippo best ecommerce platform helps you create a local fleet of delivery agents and manage them effortlessly.
StoreHippo's SEO friendly ecommerce solution also gives you a host of inbuilt SEO tools to optimize your storefront on a variety of keywords. You can use the blog engine to create engaging content that also helps you rank higher on SERPs. StoreHippo multi store ecommerce platform has everything you need to build a successful global presence for your brand.
The thumb rule of business remains the same - "Customer is the King."
While it is easy to create an online store ,to enhance the online shopping experience of your customers on multiple storefronts needs some thoughtful planning. When you create a customer friendly sticky site with seamless shopping experience your customers keep returning for more. In a multi-store environment, you can achieve this in less time using the inherent features of the setup.
To provide an improved shopping experience through multi-store setup you should do the following,
Set up different storefronts for each category or product in your inventory for easy navigation

Create seamless cross-device buying experience

Build mobile-ready stores and mobile apps for shopping on the go

Offer frictionless checkout with customized checkout on all sub-stores

Offer faceted search to make search easier on the multi store ecommerce website

Offer smart pricing comparisons between different product types for informed buying decisions

Setup social logins for quicker login and faster checkout

Let your customers choose their preferred shipping and payment options

Give personalized deals to repeat or new customers based on their buying behavior

Offer one-click checkout process to make online shopping easier on mobile devices
You can do this and much more with StoreHippo multi store ecommerce platform. You can easily roll out any number of storefronts and manage all of them from a common central admin. The decoupled headless architecture of the platform allows you to create customized shopping experiences across multiple customer touch points.
StoreHippo mobile-ready ecommerce platform builds PWA sub-stores that look and work like mobile apps when opened in a browser. What's more, you can even build your Android and iOS apps using the inbuilt mobile apps builder. The strong search and navigation feature enables your customers to quickly find the exact product matches and complete their order.
You can also customize the checkout flow on each of your storefronts in the multi store ecommerce setup to facilitate your customers. By implementing social login you can do away with signing in fatigue and also capture additional customer data for targeted marketing. You can also nudge your customers to buy more by offering them personalised discounts and then offering them easy payment options and quick deliveries.
Isn't this all you needed to keep your customers happy and stay loyal to your brand!
Multi store ecommerce set up has multiple benefits for brands planning to explore new territories. This setup is ideal for brands looking for targeted marketing to tap new markets.
You just need a feature-rich multi store ecommerce platform like StoreHippo to help you roll out multiple storefronts easily and quickly. StoreHippo comes with 300+ inbuilt features that help you grow your business to new heights of success.
If you have the right business ideas and strategy in place StoreHippo, the best ecommerce platform has a gamut of tools and features needed to implement all your ideas. What's more the fully integrated platform allows you to create innovative solutions by integrating the best in class software of your choice.
Ready to rule the market? Get started right away by building your StoreHippo free trial store now.