Fashion doesn't remain constant. It evolves with styles, seasons, sensibilities, periods, tastes, etc.
So, it's not a surprise when we see the fashion industry moving ahead to carve its own place in the ecommerce segment. With new trends and ideas, we see this industry marching ahead with its eye towards the future.
The future of fashion is to go digital as more and more brands rush to sell online.
Let's check out the facts here:

#1 B2C eCommerce market segment is Fashion

$752.5 billion is the estimated global size of the ecommerce fashion market in 2020

9.1% per year is the estimated online fashion market growth

$1.164,7 billion is the expected size of the total ecommerce fashion industry by the end of 2025
(Source: Statista)
These facts present an astounding picture! With the rise of ecommerce, mobile apps, and the unexpected impact of the pandemic, ecommerce has emerged as one of the main selling points. As the market continues to rise, your fashion store needs to establish a strong identity to stand out in a competitive market.
Did you know that there are many factors in ecommerce design for a successful apparel ecommerce store? Successful fashion brands are known to be great at visually communicating with their clients on every webpage. The better the brand is at communicating through its visual appeals, the more likely it can get the consumers to convert into buyers. The best turnkey solution provider can help your fashion brand grow successfully.
Let's find out how you can use the best ecommerce platform to grow your brand.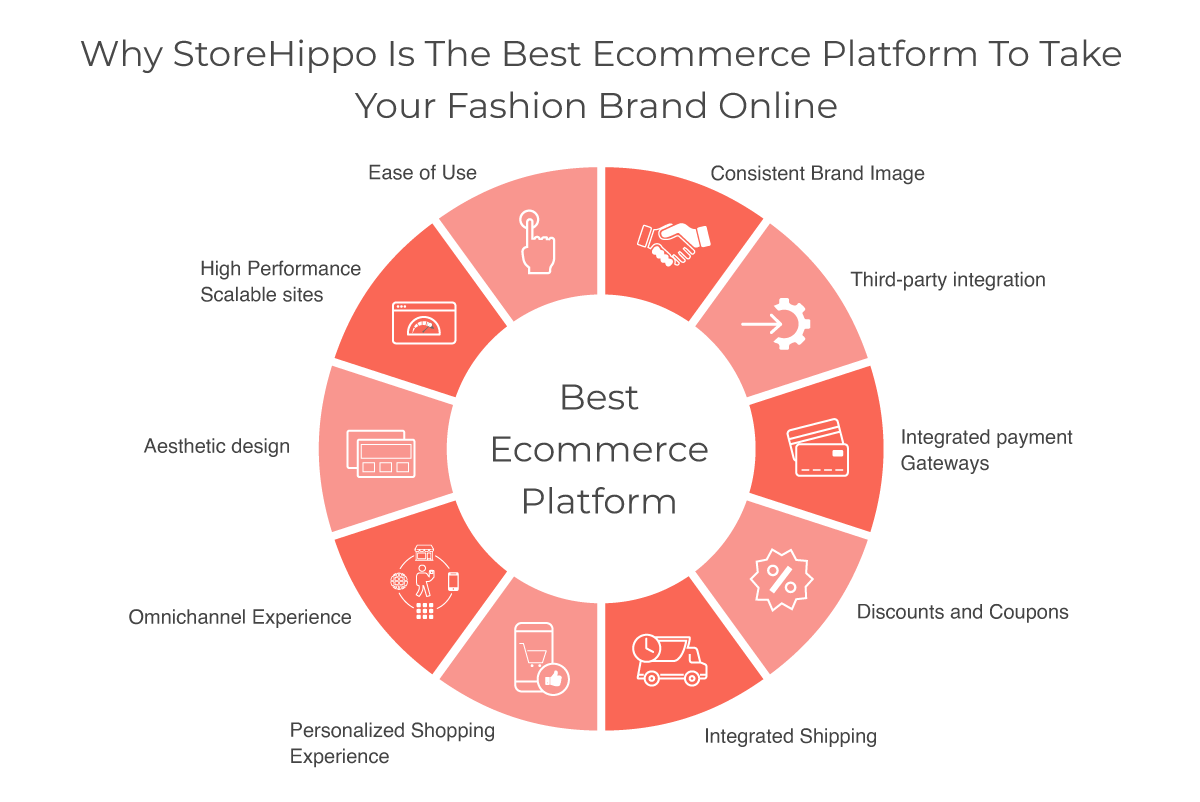 Starting an ecommerce store might sound difficult. It requires so many steps that someone having no knowledge of building an online store might find it daunting.
Thankfully this has been taken care of by the modern ecommerce store builders. However, choosing the right ecommerce solution is of utmost importance to ensure the success of your Fashion business online.
Did you know that StoreHippo enables you to tweak and customize your online store to your heart's content? The unique ecommerce platform offers you turnkey ecommerce solutions to build online stores and customize them just the way you want.
StoreHippo is easy to use and is designed for everyone- eCommerce experts to total beginners. Based on the DIY (Do-it-Yourself) model, the merchants can build their own online stores without even knowing coding. The best ecommerce platform offers end-to-end solutions that save your time and energy. As soon as you sign up with StoreHippo, you get access to a gamut of features to build an online store. Powered by the most advanced technology stack, the business solution provider enables you to create future ready stores with an unmatched ease of use.
There is a 90 percent chance your prospective customers will ''bounce'' and go to a competitor if your website takes up to 5 seconds to load. This underlines how important the customer experience is to online fashion retail. If your brand experiences a surge in demand and your online infrastructure can't cope, that means the loss of potential customers and sales.
For instance, suppose you spend money on a marketing campaign during the holiday. It drives potential new customers to your online store. The traffic increases on your website from 3000 hits a day to 30000. If you aren't ready for the massive hits, your website may crash. Those potential customers will remember your brand where the website broke down. This would turn them towards your competitors.
Therefore, scalability ensures that your online store capacity accommodates increased web traffic and order fulfillment as your brand grows. The best ecommerce platform scales up for peak traffic and prevents downtime that might dent your brand reputation.
Built on the most innovative technology stack (MEAN stack), the best ecommerce platform provides an inherently scalable solution for high-volume, fast-growing businesses. With a peak load tolerance of 99.99% uptime, StoreHippo offers you the speed to open your website page. The business solutions provider is scalable and easily adaptable to both increase and decrease workload.
One of the worst things for a brand is an unattractive, stale online presence. Now more than ever, an appealing fashion online store is imperative. UX design plays a vital role in the success or failure of your ecommerce website, and it is just not limited to aesthetics.
Right from logic and navigations to clear micro-interactions, fast feedback, attractive product presentation, and simple payment flow-all these elements can affect your ecommerce game.
Therefore, when you build an online store, you should pay attention to a user's perception after interacting with your website, whether positive or negative.
When you build an online store with StoreHippo, you get to stand out from the competition with great colour and product images. In addition, you can create aesthetic website designs and build detailed pages showcasing great product descriptions and product information. The best ecommerce platform also offers you responsive ecommerce website themes, free templates and aesthetics designs to make your website visually appealing.
With StoreHippo multilingual ecommerce solution, you can create a website in any language and establish your brand in regional or international markets. Using the inbuilt multilingual feature, you can easily convert your website into the language of your choice to connect with your customers.
A recent survey found that:
Behaviour of Omnichannel shoppers in Apparel
60% of shoppers use at least one digital channel in their shopping journey

Only 27% of consumers did shop exclusively online

39% were store-only shoppers
The above facts highlight the importance of omnichannel retail. Omnichannel means that your customers can access you on all channels possible. The apparel buyers are navigating through multiple channels to shop for their favorite brands. As the number of omnichannel shoppers grows, you need the right ecommerce platform that helps you meet the shopper rights where he wants.
Building an online store with StoreHippo gets you the best-in-class headless commerce solutions that make it easier for fashion brands to sell omnichannel. StoreHippo lets you go to the market in record time by building new touchpoints for social platforms, marketplaces or any type of mobile device. You can easily connect, engage and convert your customers on all these touchpoints and even add new out of box IoT devices as your touchpoints.
With more than 250+ APIs, the business solution provider has empowered enterprise brands to create customized buyer journeys across multiple customer touchpoints. The microservices-based powerful design framework can help fashion brands easily add new interfaces to their website for a personalized buyer's journey.
When you build an online store, one thing makes your customers come back for more, and that is a personalized experience.
For an ecommerce site, personalized shopping is all about a customized shopping experience for each buyer. For example, consumers are happy to shop from a fashion ecommerce store that offers them personalized recommendations about new styles in their sizes and favourite colours. Therefore, improved consumer experiences are one of the main factors for retailers to win and retain shoppers.
StoreHippo enables enterprises to manage customer data and analytics from their admin panel. With the help of data, you can understand the user's fashion and style for target marketing. The inbuilt marketing tools can also enhance the customer experience by providing them customizable offers, discounts, early-bird specials, and more corresponding to their geographical locations and groups. In addition, based on the user history, you can offer consumers personalized product recommendations.
Consistent branding ensures a cohesive brand image, unified experience for both existing and potential customers. When users start to recognize your fashion brand and eagerly wait for your fashion brand's actions, they will start connecting with you on an emotional level. Establishing branding guidelines, sharing and writing content that fits your brand, and using social media can establish your brand consistency.
The best ecommerce platform offers you an SEO-ready platform, inbuilt blog engine, easy social media plug-ins to share your content. With the help of dedicated brand pages you can use paid and targeted advertising. The ecommerce platform enables you to receive comments, feedback and reviews to build the credibility of your fashion brand.
When you build an online store, your site should respond to market demand quickly. Third-party integrations enable you to quickly add features and tools to your business process, which might have taken you months to develop. You can use third-party integrations to improve lead quality, improved targeting for campaign messaging, automation of tasks, etc.
The best ecommerce platform enables you to expand your opportunities and outreach with quick integration solutions. You can integrate a variety of tools and systems to create new sales opportunities. You can add a host of integrations such as CRM, Accounting, Live Chat, email marketing tools, unified notifications (SMS, email, push and web) to your fashion store to improve efficiency.
70% of carts are abandoned on most ecommerce websites. Of the 30% left, half of them are left at the checkout stage. Online fashion buyers expect a frictionless shopping experience. But your efforts in making that shopping experience straightforward doesn't amount to anything if the checkout experience is filled with frustration.
StoreHippo enables online fashion retailers to access an exhaustive payment gateway list of 60+ domestic and international payment gateways to choose from. By using the best turnkey solution payment gateway, shopping becomes extremely easy and business-specific. Depending on your payment gateway type and your target audience segment, you can integrate flow by having a single page or multiple page checkout flow. The best ecommerce platform also makes it easy to retarget customers who have abandoned the cart by simplifying and automating the process of cart retrieval. You can boost your selling potential with StoreHippo's multiple gateways, net banking, digital wallets, offline payment options, cheques, COD, UPI etc to your customers.
When you build an online store, you should offer discounts on purchases to draw people into your store. You are more likely to get customers' attention when you offer them reasons to save money on shopping.
Discount doesn't just help consumers but your fashion brand too. From increased sales to attracting new and repeat customers to freeing up your inventory- discounts and coupons can bring success to your ecommerce store.
When you build an online store with StoreHippo, you get access to its discount engines. You can easily set up various discount rules, coupons, limited period offers, personalized discounts, device-based discounts, etc. With StoreHippo, you can reward your loyal customers with discounts just for them to increase your sales.
As more and more buyers expect to receive their order instantly, businesses should be on the front foot to compete in the delivery speed war. Accurate and timely shipping is crucial for fashion retailers. Likewise, it is important for online stores whose customers rely on getting their orders where and when they need them. Shipping integration is the key to ensuring that the shipping process is seamless and easy for businesses and customers.
The best ecommerce platform allows you to integrate with shipping and logistics providers to automates processes that can turn the complicated tasks of shipping orders into simple ones. Online fashion stores powered by StoreHippo can choose the best-fit shipping solution from a list of multiple delivery partners integrated on our platform. In addition, our full support for COD and easy schedule pickup and returns will help make the shipping process as simple as possible.
Building a great fashion brand will demand new solutions and ideas. You must work towards authenticity to build your brand and take the help of the best ecommerce software to set up your ecommerce website.
StoreHippo is the platform of choice for many fashion brands. The best ecommerce platform offers you quality solutions for your online clothing process. StoreHippo is your complete ecommerce solution for all your business needs. Start your 14 days free trial period now to grow your fashion brand in a fast-changing industry.