The ecommerce industry is booming and it shows no signs of slowing down in the future. In fact, the global ecommerce market is expected to rise by $6.54 trillion in sales by 2022.
And this figure is quite higher from $3.53 trillion in 2019.
Well, the most successful stories come from ecommerce stores with the right set of marketing tools and technologies. Jumping headfirst into different tools and platforms can be risky.
Using marketing tools for ecommerce has a host of benefits:
Helps your brand engage and convert customers better

Gives your business better insights into customer behaviour

Helps you compare and evaluate different marketing strategies

Better segmentation of data for improved marketing plans

Improves marketing budget allocation

Increases marketing ROI through strategic planning
So, it's the time to give your business a winning edge with proper tools.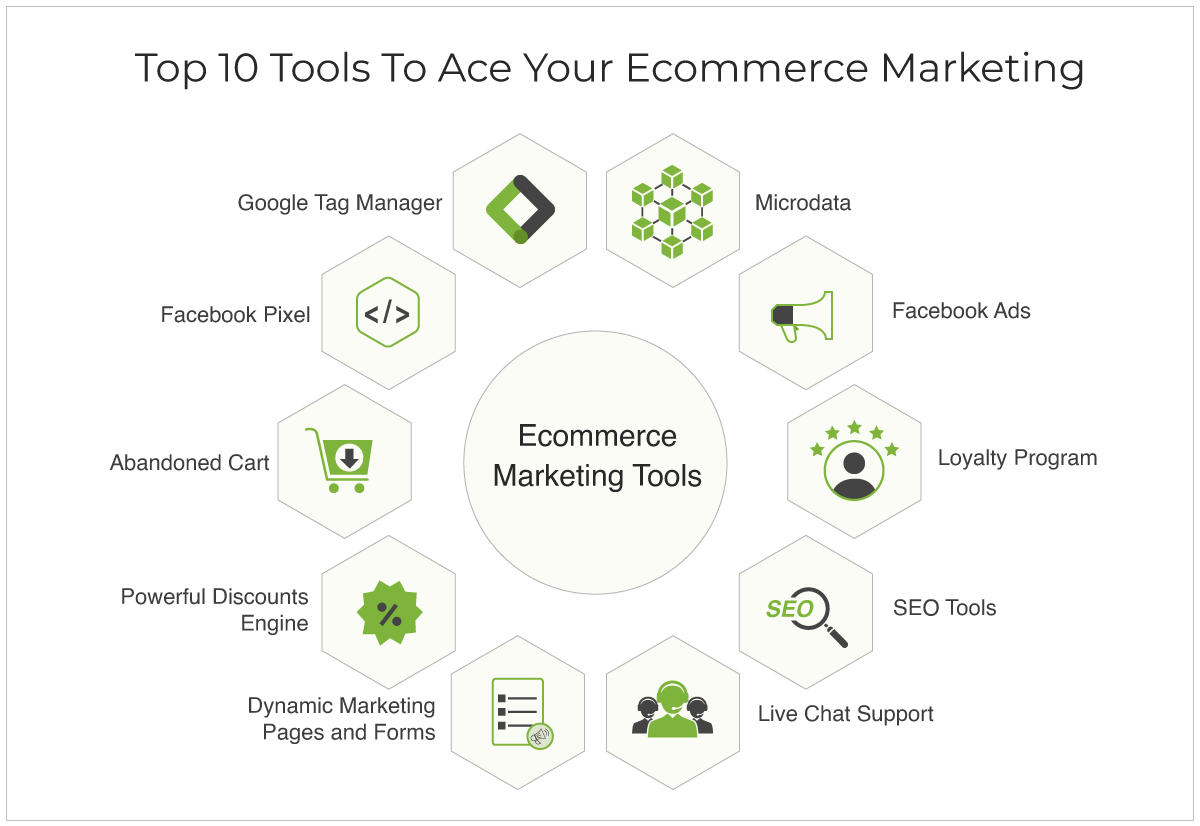 Read on to learn about 10 must-have marketing tools for your website that could make a real difference to your business.
Google Tag Manager (GTM) enables you to update code snippets or tags on the website for marketing purposes and analysis of traffic. For this purpose, you need the right ecommerce platform that can provide seamless support for Google tag manager.
The platform provides you with Google tag manager support and enables you to use multiple tools like Google Ads, Google Analytics from one place.
Facebook pixel is used to track the users who visit your store. It adds pixel code to your online store and helps in remarketing the customers through Facebook advertising. Since the web traffic conversion rate is very low in the first customer visit, remarketing is considered as a great ecommerce marketing tool. This technique helps you keep your brand in front of bounced traffic even after they leave your website.
With StoreHippo, you can easily add Facebook pixel id directly through the admin panel and help you scale up your marketing efforts to the next level.
Not every website visitor becomes a buyer for your online store. Over 88% of web buyers say that they have abandoned the shopping cart without completing the transaction. It indicates that most of the visitors add products to the cart but leave without completing the order. The abandoned cart is an excellent ecommerce marketing tool that captures customer information. It helps you to bring back the potential customers but you need the right platform to make this work easy and manageable.
The abandoned cart management features offered by StoreHippo helps you to recover lost sales by sending abandoned cart mailers and reminders to customers.
You can draw better traffic to your ecommerce website by offering personalized discounts. The right ecommerce platform also allows you to send coupons and discounts based on the customer buying history and other relevant information.
With StoreHippo, you can easily set up flat or percentage base discounts for different products, categories, collections, user groups, device-specific audiences, and more. You can also generate customized coupons directly from your admin panel and advertise them to get more website traffic.
You can promote your website using dynamic marketing pages and forms. The custom marketing landing pages help you to cater to seasonal opportunities and increase your online sales. While the custom forms help you to capture relevant customer information and send them personalized offers to boost ecommerce marketing.
The platform provides you with easy options to create custom pages to promote products to specific user segments, devices, time, and geography. It also allows you to create dynamic forms and use these customized forms for marketing purposes.
Along with the dynamic marketing tools, you also need to provide seamless customer support. To engage your customers on multiple channels, you need a well-integrated platform with live cat functionalities.
The platform provides the support to integrate third-party chat solutions to offer live chat on your website and answer customer queries in real-time.
Search engine optimization is an essential component of ecommerce marketing as it helps you to increase the search results. The inbuilt features of StoreHippo help you to improve your SEO rankings easier and faster.
The platform offers popular SEO tools like Dareboost, Woorank, Google structured data testing tool, inbuilt blog engine, SEO tools, Google webmaster tools, etc.
Loyalty programs have gained immense popularity over the years and today, it has become a necessary marketing tool for online stores. With the rising online competition, customers have increased choices to order online and loyalty programs help you to retain the maximum number of customers. Therefore, loyalty programs are considered an effective marketing tool.
With the integrated loyalty program of StoreHippo, you can give access to new products, free merchandise, special sales coupons, and much more.
Google product feed is very important for ecommerce stores as it allows you to create real-time feeds to supply product information to the merchant centre of Google, which is a prerequisite for setting up the product ads. Similarly, Facebook ads require an XML file to upload the product catalogues on Facebook. A scalable platform like StoreHippo supports extended ecommerce marketing with easy product listing options on Google and Facebook.
The platform allows you to easily sync, submit, and optimize the products for listings on Google. The platform also supports creating product feeds for products that belong to a specific category, collection, or brand.
Microdata or schema is the machine-readable data embedded within the webpage. The specific information is provided to be interpreted by search engines and other web services.
With the microdata support of StoreHippo in all its themes, you can easily add microdata automatically in the HTML code of product pages. The platform has a microdata widget with structured data definitions for individual theme pages on your ecommerce website.
Incorporating these tools in your marketing strategy can take your online business success to the next level. The easy-to-use marketing tools also help you to eliminate mundane tasks while driving effective results. As an online business owner, these tools can save your time and efforts and ultimately, provide you more time to grow your company and increase revenue by formulating the correct ecommerce marketing strategy. Not just that, these tools provide you with several analytical data that can be useful to make informed decisions. Don't wait to explore 300+ inbuilt features and integrated marketing tools of StoreHippo by scheduling your free online trial store today.