Today, no one will be surprised to hear that the ecommerce world is booming and mobile commerce has an even better growth trajectory. In fact, you must have bought something online recently. Perhaps that fancy sunglasses you have been eyeing up for a while?
Well, this is just so common in the era of online shopping. But 2021 has much more to show up. It's not only about big players like Amazon and eBay in the coming years. In fact, plenty of smaller companies are going beyond traditional stores and embracing ecommerce.
Don't believe us? This list of e commerce trends will help you believe many interesting facts.Read on to know the fascinating stats about ecommerce trends in 2021. This year is going to be too exciting for your business.
When you want to buy something, you head straight to an ecommerce app on your mobile or the smartphone's browser. So, it is more of a habit or tendency to use mobile devices instead of laptops or desktops. This is why mobile shopping is gaining momentum in the ecommerce world. Some of the common reasons for the popularity of mobile commerce are: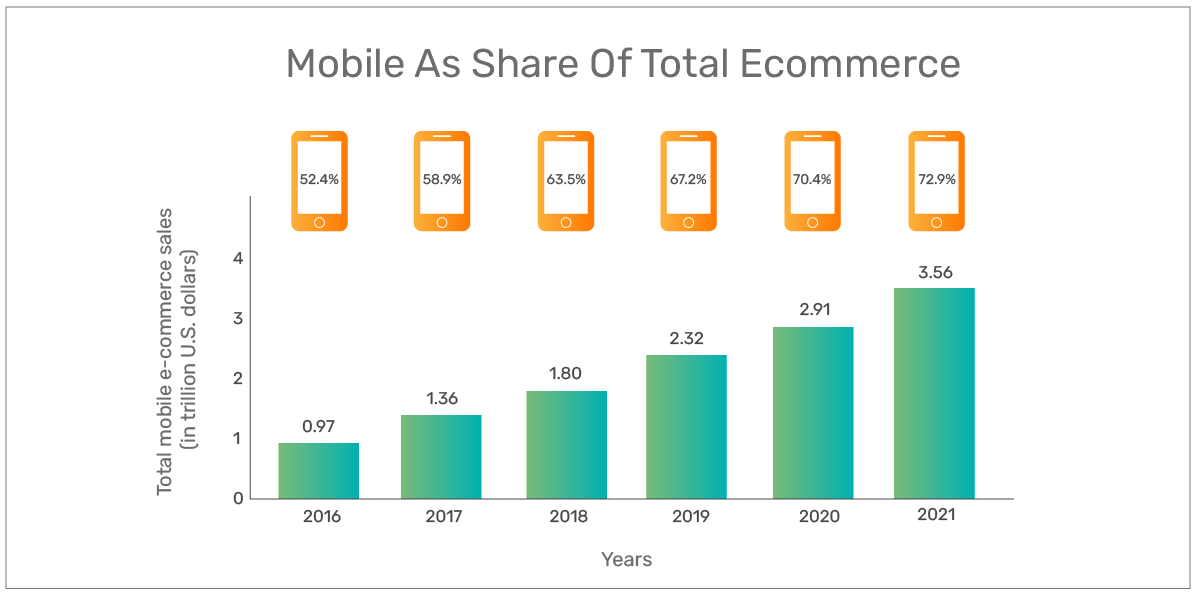 So, mobile shopping tops our list of ecommerce trends. The growth of mobile sales is also growing drastically. It is expected that mobile devices will perform over 72% of ecommerce sales across the world by 2021.
The mind-blowing popularity of social media is not a new thing now. Most of the brands have recognized the potential of social channels as powerful advertising platforms. Some of the reasons for the importance of social shopping are:
So, there are many more strong reasons why social commerce is one of the vital ecommerce trends for 2021. Over 4.5 billion are on the internet now, while social media users have passed the mark of 3.8 billion in the year 2020. In addition to being active on social media, most of the people are actively adopting the social shopping norms. Over 87% of e-commerce shoppers believe social media helps them make a shopping decision, and 54% of customers use social channels to research about the products. Don't wait anymore to put in efforts on social shopping in 2021.
Ecommerce has been buzzing about headless ecommerce for quite a while now. With easy flexibility, hassle-free customization, no design constraints, headless commerce will surely dominate the traditional ecommerce by 2021. With the headless features of ecommerce platforms, you can leverage the following benefits:
The adoption of this trend is not an option anymore. It has become a necessity for online stores. With headless features, you can easily optimize your storefronts in no time, sell through multiple channels, cut down on resources and time required to update information on site. Choosing an ecommerce platform like StoreHippo offers amazing headless commerce features allows you to adopt this trend and ace the world of ecommerce.
Customers always look for freedom of choice while shopping online. This freedom is directly related to the conversion rates and sales. And the omnichannel gives all the freedom to customers to choose from any channel anytime they want.
Did you know that the businesses with omni-channel strategies achieve 91% better customer retention rates year-on-year as compared to the businesses that don't? So, when you understand why multiple purchasing channels have become an undeniable ecommerce trend. Choose a full-fledged headless ecommerce solution like StoreHippo that helps you to integrate multiple channels and social media to drive repeat purchases and customer loyalty.
Do you still think that ecommerce is all about B2C and retail? Then, you need to know that B2B ecommerce is already six times that of B2C ecommerce and B2B eCommerce transactions will reach $1.8 trillion by 2023(Source: Forrester)
The dynamic growth of B2B ecommerce and changing customer preferences have forced wholesalers to consider an integrated (B2B+B2C) solution. This is the reason the combined power of B2B and B2C business models is one of the top ecommerce trends in 2021. The enterprise businesses look for enhanced capabilities in B2B ecommerce platforms to fulfil the demands of customers and offer them a seamless buying experience. The easiest way to leverage this trend is to adopt a ready-to-use ecommerce platform that offers the enterprise-grade features of B2B and ease of B2C features.
Payment options have always been important for customers and it will continue to be an important factor for online shopping in 2021 and beyond. Always remember the quick and agile payment options you offer, the more customers your online store will attract.

With the popularity of mobile commerce, the convenience bars are already set very high. Today, the customers look for a super quick and seamless online shopping experience. As online stores are accepting digital wallets, credit cards, internet banking, UPIs, cash cards, and much more, you cannot afford to fall behind in 2021. Now, all you need to look for is an ecommerce platform that offers pre-integrated payment gateways. Check the wide range of payment gateways available with StoreHippo platform.
Did you know that 84% of shoppers are unlikely to shop with a brand again after a poor delivery experience (the "last mile"), and 98.1 percent say that delivery impacts their brand loyalty?
It clearly indicates the importance of delivery in the online shopping world. If you are running an online business, you need to get the delivery factor right.
The reliable and fast delivery is the basic need of every customer who is buying online and this need has become the one of the most important ecommerce trends in 2021. It has become extremely important to choose an ecommerce platform that integrates smoothly with your delivery partners and has the right set of delivery features. Like, StoreHippo offers a simplified shipping solution for all your online delivery needs. It allows you to track the orders, update the deliveries in real-time, offer discounted shipping rates, COD support, international shipping, and much more.
49% of consumers say that not being able to touch a product is one of the worst parts of shopping online. Ecommerce lacks the physical contact between the customer and the seller. And this gap is getting fulfilled with this new buzzing technology – visually appealing product descriptions.
So, this ecommerce trend is filling the gap between the customer and the seller. The visual product descriptions are appealing as most of the consumers prefer to watch videos rather than reading lengthy product descriptions. Sounds great right? You can also leverage this advantage with best-in-class ecommerce platforms like StoreHippo. It provides the following options to make your product descriptions visually appealing:
Using marketing automation causes conversion rates to increase by an average of 53%. Isn't it an amazing fact? Marketing automation has become the talk of the ecommerce town for many good reasons. It enables you to automate your marketing efforts so that you can shift your energy to better strategic tasks.
The marketing automation refers to the tools and features that helps you to develop a lead nurturing strategy. Just like, StoreHippo comes ready with advanced marketing features including email marketing, abandoned cart follow-up, powerful discount engine, and much more.
This is an ecommerce trend that will never fade away. There was a time when personalization was limited only to targeted offers but now it has extended to the whole customer experience. It means that customers expect personalization in all their interactions – be it any shopping channel.

There is no doubt that personalized directly boosts your conversions but you need the right tools for the job. StoreHippo is one such platform that offers high-level personalization with the help of a wide range of modules and inbuilt features. Don't wait anymore to leverage this evergreen trend for your online store.
Trends come and go. It is important for online businesses to pay attention to the ecommerce trends that positively impacts user experiences and conversions. Even though this list of trends is not permanent and evolves into something different in coming years. You need to keep a close track of the latest trends and start capitalizing on them without wasting any time.
2021 has already started and there is no better time to act for better business outcomes. The easiest way to leverage these trends is to choose an ecommerce platform that offers all the aforementioned features. StoreHippo is one of the most advanced ecommerce platforms that offer 300+ inbuilt features that allows you to capitalize the latest ecommerce trends and achieve your business goals. Start your free online store trial to explore the features b y yourself and notice the difference. Good luck.