Have you noticed the increase in the number of traditionally brick-n-mortar businesses like industrial goods, building and construction, agricultural supplies etc. opting for B2B ecommerce solutions? Are they just inspired by the success of Amazon Business and Alibaba or is there something more to it?
Interested in knowing what drives the online foray of wholesale and enterprise businesses? Let's begin with understanding the current B2B ecommerce landscape!
As forecasted, B2B ecommerce has long overtaken B2C ecommerce. B2B ecommerce market valued at $12.2 trillion in 2019 is 6 times that of B2C ecommerce. Global B2B ecommerce GMV value has multiplied 2X from 2013 to 2019. (Source)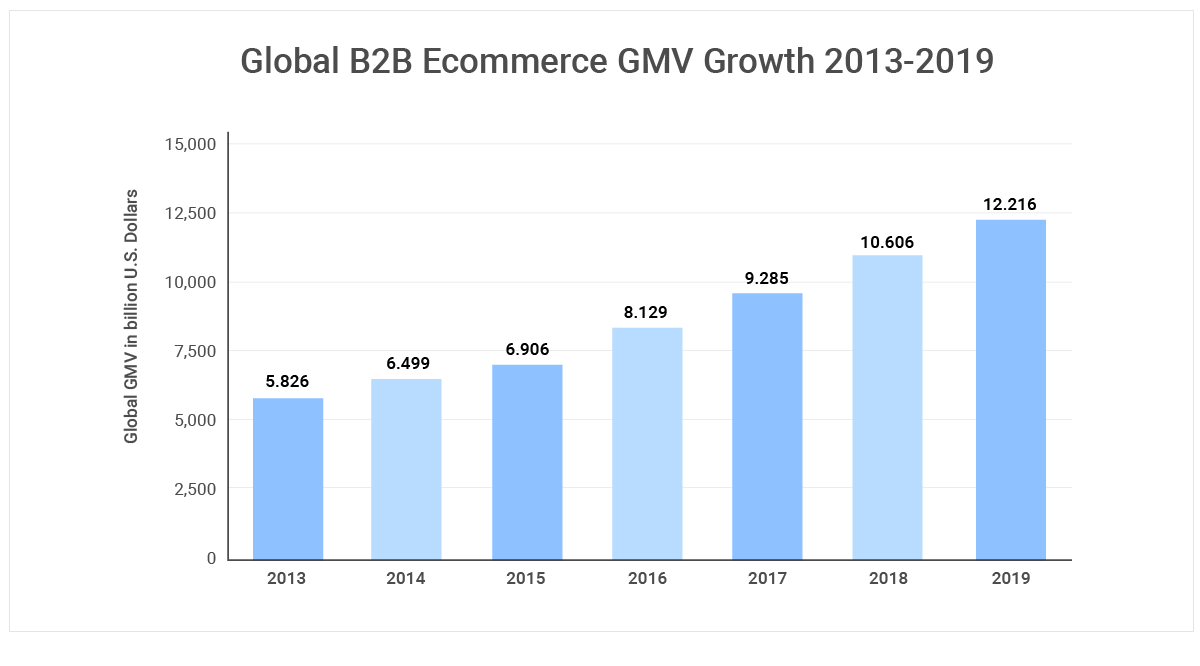 Why Enterprise And B2B Businesses Are Going Online
Going online has obvious benefits for B2B businesses. It not only increases their market reach but also offers operational efficiencies and helps in attracting the tech savvy modern buyers.
Inspired by the rapid growth of other big brands going online, more and more wholesale businesses are following suit. Some of the most compelling reasons to opt for B2B ecommerce solutions are:
74% of B2B buyers say they find it easier to buy from a website.
52% of B2B business leaders say e-commerce increases the potential to reach new customers
93% of B2B buyers shop online after researching and finalising their products.
74% of B2B buyers do their research online before making any offline purchases
90% savings in sales and operating costs by retailers who launch B2B retail web store
56% of wholesalers stated that some customers can be given profitable service only through the online channel
60% of B2B online businesses said interacting through multiple sales channels with their buyers increase their average ticket size
Source: Google, Forrester & more.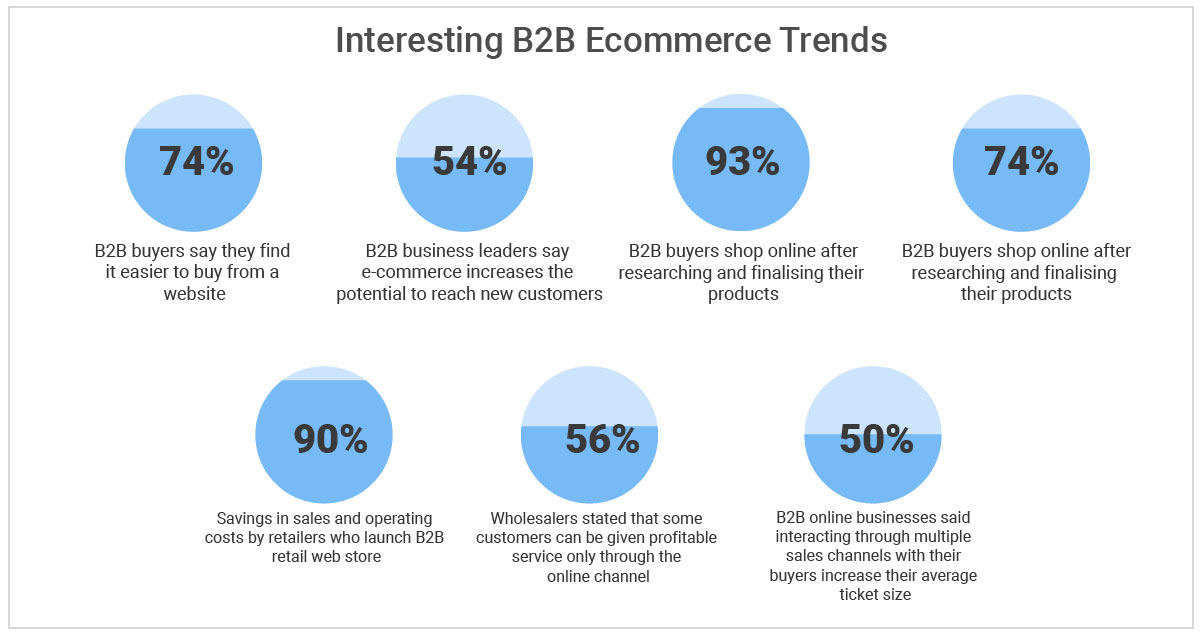 Along with these benefits, implementing B2B ecommerce solutions for their business helps enterprise businesses enhance their existing customer relationships. It also becomes easier for them to have global collaborations and reach new markets internationally.
Why your high-volume enterprise business needs a comprehensive B2B Ecommerce Platform?
Choosing the right ecommerce platform for your enterprise business is the first thing on your mind once you decide to take your business online. This is going to be the most crucial decision as it will affect the way your business takes shape in future.
Identifying the requirements, complexities and growth prospects of your business model can help you decide the right B2B ecommerce solutions provider for your project. It is imperative for the success of your business that you choose your technology partner after a thorough analysis.
Your enterprise ecommerce solution should be designed in a way that it can adapt to your unique requirements. Also, it should offer a customized solution after understanding the ins and outs of your business.
StoreHippo has been delivering ecommerce solutions for B2B as well as B2C businesses for many years and has helped businesses across diverse industry verticals to go online. Our well-rounded platform understands the core requirements of the business to business model and combines it with future-ready technology to give you an edge over competitors.
Here are 10 top features that will help you redefine your success with B2B ecommerce solutions from StoreHippo;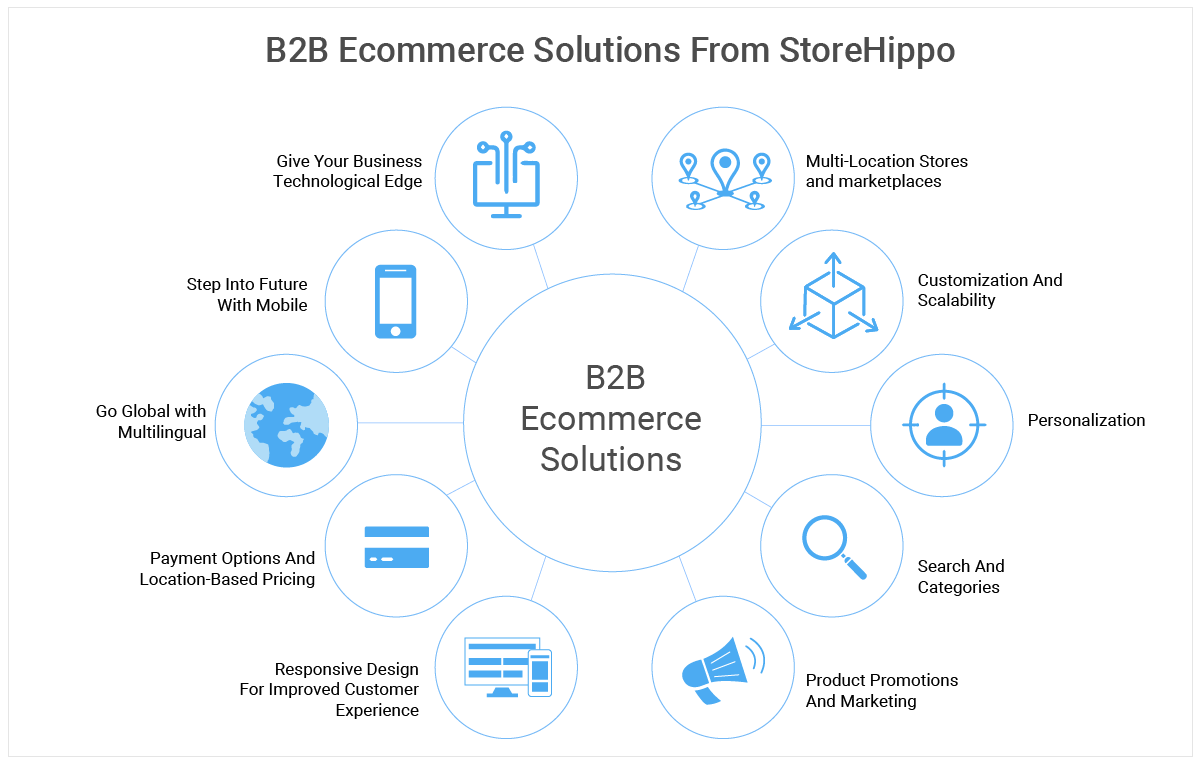 1) Give Your Business Technological Edge
In the age of rapidly changing technology, your business can lag behind if you do not choose a future-ready advance technology for your business.
StoreHippo platform uses the MEAN stack and offers a well-rounded solution for the B2B model of ecommerce. Our expertise with B2C model has helped us understand the expectations of B2B customers who are driven by their B2C experiences and look for something superior in terms of technology and experience from the B2B ecommerce solutions.
StoreHippo helps you build lightweight, superfast, SEO friendly online stores. We use offline caching to make your enterprise website work seamlessly even on low internet connections. Our inbuilt B2B module takes care of all the unique requirements of high-volume wholesale businesses.
2) Step Into Future With Mobile
70% of B2B queries are made on smartphones

60% of B2B buyers say mobile played a significant role in their purchase decision
Mobile commerce is the present and the future of ecommerce. If your online business is not ready for mobile devices you are losing on a huge number of potential buyers.
StoreHippo B2B ecommerce platform is built grounds-up on mobile-first technology. Our stores are built to perform seamlessly on all mobile devices. All the stores powered by StoreHippo are PWA, that means, when you open the site in any browser on any device, it looks, feel and functions like a native mobile app.
You can also build mobile apps for your business right from your admin dashboard without any additional cost or coding effort. What's more, both the backend and front end of our platform is mobile ready and allow you to take your business wherever you go.
3) Responsive Design For Improved Customer Experience
If you think that website look and feel doesn't matter for enterprise customers, you are having a wrong notion about this rapidly changing industry. Did you know that 76% of B2B buyers find site design to be the most important factor in their buying decision
Conditioned by their B2C experiences at least 80% of B2B buyers are now expecting the same buying experience on B2B ecommerce platforms. Customer experience holds the key to the success of every business. Customers are attracted, engaged and convert better on a website that has a beautiful design which fits perfectly on every screen size.
Since most of the enterprise decision-makers prefer to explore the websites on their smartphones, ensuring a good experience with design and functionalities is of utmost importance for your success.
StoreHippo B2B ecommerce solutions offer mobile responsive designs that fit on various device screens without distortions. Whats'more you get inbuilt tools and drag and drop feature to easily tweak your site design on the fly.
4) Payment Options And Location-Based Pricing
Did you know that 37% of B2B buyers are frustrated with the limited payment options available on ecommerce sites? Allowing multiple payment channels on your ecommerce site is the key requirement to capture every possible sales opportunity.
The payment cycle of large businesses is complex and works a lot on credit. So you need to have a variety of payment options to facilitate easy payment fo large volume order on your website.
Along with this B2B ecommerce solutions should offer personalized pricing through pricing overrides or location/login based pricing option. For large volume orders, the price varies greatly based on the location and the order volume. Hence, this is a must-have feature for running a smooth enterprise business online.
StoreHippo has integrated payment solutions with 50+ domestic and international payment gateways. This allows you to implement multiple payment channels on your wholesale ecommerce store. With StoreHippo's pricing override and IP based pricing features, you can show personalised pricing to your clients.
5) Go Global with Multilingual
Exploring new markets is one of the main drivers behind finding B2B ecommerce solutions for your enterprise business. And what better way to explore new markets than taking your business to global markets.
However, to sell in global markets your website should be equipped to connect with customers in their native language, offer them the ease to pay in their preferred currency and implement the local taxes and other charges seamlessly.
StoreHippo B2B ecommerce platform helps you implement all of the above with its inbuilt multilingual, multi-currency and powerful tax engine. You can also create custom invoices in the preferred currency of your clients.
6) Multi-Location Stores and marketplaces
B2B model often requires setting up multi-location stores or a multi-seller marketplace to onboard vendors, suppliers, manufacturers and distributors. You can gain a competitive edge by setting up multi storefronts which showcase customer segment-specific offers, deals etc and works for a given segment of customers.
Similarly, having multiple vendors lets you maintain a rich inventory across different product lines. Scaling up business also becomes easier by just adding new manufacturers, distributors and suppliers.
StoreHippo B2B ecommerce solutions offer a completely inbuilt multi vendor marketplace solution to start your enterprise marketplaces like Amazon Business or Alibaba. You can also have multiple storefronts managed by a common central admin using StoreHippo's multi store solutions.
7) Customization And Scalability
Every B2B business is different in structure and core requirements. This means these businesses can have unique needs that make extensive customization mandatory.
So, you should choose a turnkey solution provider that offers the ease of customizations. Your changes should be easy to implement and the B2B ecommerce platform should also offer inherent scalability to accommodate your business needs.
StoreHippo offers an extensible platform that allows tweaking not only the frontend but also the backend according to your needs. The platform accommodates your business growth due to its scalable architecture and thus offers you a stay on solution even as your business grows.
With StoreHippo B2B ecommerce solutions you can even access your backend on any device of your choice and can take your business along with you, wherever you are whatever you are doing.
8) Personalization
This is the era of personalization in the online shopping sphere. B2B customers have already experienced ecommerce in a big way with the B2C model and expect something bigger, better and personalised.
73% of B2B executives say that customer expectations for personalised experiences are significantly higher than they were a few years ago (Source: Accenture).
StoreHippo B2B ecommerce solutions allow you to implement a host of personalized offers for your customers. You can use the data from your business reports to send personalised offers based on industry or customer segmentation or any other various criteria. You can create personalized landing pages easily or can send real-time offers using unified notifications.
9)
Search And Categories

What would you do if you feel its taking ages to find the desired products on a site you visited. Leave the site, right? No wonder, 76% of B2B customers have quoted easy search and navigation as a basic criterion for liking and opting for the site.

StoreHippo B2B ecommerce platform understands how important this feature is for your business growth. StoreHippo B2B ecommerce platform allows easy management of product categories up to 4 tiers which facilitate smooth searches and easy categorization.

Our faceted search feature allows the customers to apply multiple filters and narrow down their searches to micro-level making search faster, better and easier. This makes your
10) Product Promotions And Marketing
Product promotion and exhaustive features for marketing should be an integral part of B2B ecommerce solutions. StoreHippo offers an inbuilt discount engine that makes it easy to set up promotions, discount coupons, free shipping, promo codes and many other features that boost sales.
The platform is inherently SEO and social media ready allowing you to take benefit of the marketing, promotion and sales activity across various social media channels. Also, it goes a long way in influencing your customers' preferences in favour of your brand by registering your brand presence across these digital channels.
Conclusion
StoreHippo B2B ecommerce platform offers 300+ inbuilt features that make it smoother and easier to take your B2B business online. With the experience of catering to clients from diverse industries and geographies, we have been able to design comprehensive B2B ecommerce solutions for brands, wholesale businesses and large-scale organizations looking for enterprise solutions.
Do you have unique B2B ecommerce requirements? Want to explore more features of our platform or have queries? Let our experts help you book your free demo right away.