Want to take advantage of accelerating demand for D2C brands? Want to acquire more customers and grow your sales volume? Well then, you are at the right place, as today we are answering common as well as advanced D2C FAQs to help you plan your enterprise brand's direct to consumer strategy.
With amazing success stories of D2C brands, it's natural for brands to think of pivoting their business model to meet the evolving needs, expectations, and behaviors of the tech-savvy, post-pandemic consumer. To win customers and scale your Direct-to-Consumer business you first need to clear a few things. Let's do it.
1. What Does Direct To Consumer (D2C) Mean?
Traditional retail involves a lot of intermediaries between the brand and the end buyers. Typically it happens like the flow below:
Brand manufactures products > sells them to the wholesalers > sell to the distributors> sell to the retailers> purchased by end customers
D2C model on the other hand facilitates the brands to eliminate the middlemen and sell their products directly to the end customers using one or multiple digital sales channels (online store, mobile website, mobile apps etc.)
2. What Are The Top Benefits Of Adopting The D2C Model?
Adopting the D2C model has many benefits for brands which are:
Entrants to a low-barrier-to-entry industry.

Direct access and control of first-party customers' data — their location, purchasing preferences, and social media profiles. Giving an insightful overview of buyer behavior to optimize customer purchase journey

Can reap huge profits and revenue by eliminating middlemen and offering price flexibility

Ability to control products end-to-end, from design and launch to customer experience and virality

Personalize marketing offers — follow-up emails, product recommendation, marketing offers, remarketing ads, etc
3. What Are The Challenges Of Implementing D2C?
D2C ecommerce has many benefits but also has some challenges like every other business. Here are some of them:
Product Differentiation
Finding a unique selling point is becoming increasingly complex. Today many brands have similar products, markets, value propositions and packaging. As a result, your products can easily go unnoticed by customers.
How To Overcome:
Build a strong connection with customers by offering personalized omnichannel shopping journeys

Identify key customer's demands and listen to customer's feedback to give a phenomenal experience
Changing Customer Demands
Customers are increasingly shopping on multiple channels — websites, apps, mobiles, desktops and voice assistants. D2C online stores should begin formulating omnichannel strategies and technology.
How To Overcome:
Integrate your ecommerce platform with CRM, social media, data analytics, email marketing, Google Ads, chatbots, etc

Use data analytics tools to monitor how user behaviour keeps on changing every month/year
Technical Infrastructure Limitations
Platform limitations can hinder your brand growth. Your ecommerce platform should offer a flexible and scalable architecture. So that it can easily adapt to any future development in customer demand, market behaviour and ecommerce technologies.
How To Overcome
:
Go for MACH— Microservices-based, API-first, Cloud-native SaaS and Headless (MACH) architecture to improve the D2C customer experience, rather than be limited by legacy monolith systems, which are expensive to maintain
Order Fulfillment Inefficiency
Customers expect fast deliveries with 100% transparency into the delivery process. Like their dispatch date, expected delivery date, current package location, etc. Hence, you need an order management system and a trusted delivery provider to manage your deliveries effectively.
How to overcome:
Automate your order management to speed-up routine processes

Partner with Multiple shipping providers with facilities to track deliveries

Offer simple and quick returns and refunds
4. Do You Need To Be A Big Brand With Deep Pockets To Implement D2C
?
The answer is, No. Going D2C does not require huge budgets. Besides, your fixed cost and capital expenditure are significantly reduced. You can also save the logistics costs, by avoiding shipping and transporting to wholesalers.
All of this is possible when you select an ecommerce solution like StoreHippo that offers 360-degree D2C solutions. StoreHippo is an intuitive, easy-to-use ecommerce platform. It helps you easily navigate through the complex process of creating D2C online stores and apps. You can create a site with no technical knowledge. Thus, saving you abundant money in hiring developers and designers.
It has pre-designed and customizable themes and templates, a perfect feature for non-designers.
5. Can One Run D2C And Still Keep Their Dealers' Network?
Partnering with offline dealers is a wise step towards expanding your business. Catering to a huge customer base becomes achievable when you delegate the delivery process and use your dealers' network.
Best examples are the D2C retail brand — Mamaearth. Apart from selling directly on their site, these brands appear on marketplaces like Amazon, Nykaa. They also had offline dealer stores in cities like Delhi, Gurgaon to reach offline audiences. This accelerated their order fulfilment process, revenue and customer base.
Benefits Of Having Dealers
Access to 'offline' shoppers: Not everyone wants to shop online. Working with retailers gives you access to the "offline" customer base

Customer convenience: Most consumers still pop into stores to buy as it gives them real time experience

Faster Order Fulfillment: D2C Brands can complete customers orders via their dealers. You can even assign fulfillment based on geography as well as product stock
6. Can You Manage Your D2C And B2B Business From The Same Enterprise Ecommerce Platform?
Yes, you can. Some exclusive enterprise-grade ecommerce platforms let you manage both D2C and B2B operations from a single platform. Take the example of StoreHippo. It offers you both B2B and D2C functionalities. You can customize and upgrade these functionalities anytime in the future, as per your business requirements.
As your business grows in terms of order volume, site traffic and inventory data, StoreHippo is able to handle any surge in traffic and changes in business requirements.
You can set up different storefronts for D2C and B2B and manage them from a common central admin.
7. Does My D2C Brand Need Its Own Mobile Apps As Well As An Ecommerce Website?
Yes it is best to connect with customers on multiple channels like mobile apps and online stores. Growth of multiple online shopping channels has exploded. Most generations — be it Millennials, Gen Z, baby boomers— shop across multiple channels. Therefore, going omnichannel i.e. adding multiple customer touchpoints for your D2C brand is a smart business move. To make it possible, you need mobile apps and a website.
Why Do You Need A Website And Mobile App?
Websites and apps are available 24/7

Easily rank your site on Google's first page to boost your customer base

Websites and apps build instant credibility as users don't trust a business without a legit website

Freedom to present your brand in a unique way and build your own voice

Marketing your brand sites and apps are easy and cost-effective
8. How Can I Quickly Build A Digital Presence For My D2C Brand?
97% of buyers use the internet to discover and research a business (Adaptive marketing). Therefore, you should start by exploring social media, digital ads, influencers and online forums.
Check out the 'must-haves' to build a solid digital presence:
Create Device-Responsive Sites
Build sites that run seamlessly across multiple devices and channels. It's an excellent way to accelerate omnichannel selling.
Offer Intuitive Navigation Across Site And App
Implement elements like — advanced search bar, breadcrumbs, comprehensive menu, sorting filter, headers, footers, inter-link pages — to simplify customer purchase journey.
Offer Fast, Safe and Effective Delivery Within The Guaranteed Date
Partner with a third-party logistics solution that has wide pin-code coverage. StoreHippo lets you choose from a network of delivery solutions to ship orders fast with the least effort.
Add accurate and detailed product information, click-worthy call to action buttons, eye-catching images and videos, legit ratings and reviews, and user-generated content. This will gradually improve your conversion rate.
75% of people click on the first page of Google during their search. So Incorporate keywords on your product pages. Reach out to industry influencers, journalists, media houses etc to promote your site
Utilize The Popularity Of Multi-Vendor Marketplaces
Set up a vendor profile on Amazon, Alibaba, etc to market your products to millions of audiences
Leverage Government Initiated Schemes For D2C Brands
Such as — Startup India programme, Digital India scheme, Skill India. There are international schemes too like — Duty Drawback, GST Tax Rebates, Rebate of State Levies
How Does StoreHippo Help?
StoreHippo provides enterprise-level ecommerce features — PWA stores, SEO tools, pre-designed and mobile-optimized themes, integrated logistics, headless CMS, etc — required to scale an online business digitally.
9. What Are The Features You Need In A D2C Ecommerce Platform?
Must-have features for a D2C enterprise ecommerce website are those that help you scale your brand and manage your end to end operations effortlessly. Some of these features include comprehensive OMS, seamless integrations, inbuilt marketing support, automated fulfilment, support for various business models etc.
Features You Get With StoreHippo D2C platform
StoreHippo built on MACH architecture offers next-gen D2C solutions to brands. It provides flexibility, agility, scalability, security and reliability; required for business growth. MACH's headless component separates the frontend UI layer from the backend engine. This separation allows quick addition of new customer touchpoints (channels) via API, without disturbing the existing business logic
Get rich insights on product availability (like out-stock product), order status, open and delivered orders, driver's whereabouts, delivery status, returns, etc
Headless platforms like StoreHippo lets you do a host of business integrations like CRM, accounting, live chat, email marketing tools, data analytics, and advertising tools
StoreHippo ecommerce platform allows you to create Android and iOS apps directly from your dashboard within a few clicks, along with the flexibility to customize the app according to your business needs
StoreHippo has inbuilt SEO tools to boost traffic on the Google search engine. Create super-targeted landing pages with dynamic marketing pages. Also, offer personalized discounts and emails via features like discount engine, push notification and email marketing tools
Integrated Payment Solution
StoreHippo offers internationally renowned payment gateways to convert every possible sales opportunity. All the payment solutions are PCI-DSS compliant and offers great
StoreHippo offers you a list of delivery partners that deliver to 27000+ pin codes in India. You can easily integrate them on your enterprise ecommerce store at ZERO set-up cost and discounted shipping rates with selected shipping partners
10. What Is The Future Of D2C Ecommerce?
Many traditional brands are adopting the D2C selling model, as it is more profitable. Future of D2C seems bright as many new entrepreneurs, for example, Lenskart generated a revenue of over 9.6 billion INR via the D2C model.
Here are some statistics to prove the future value of D2C: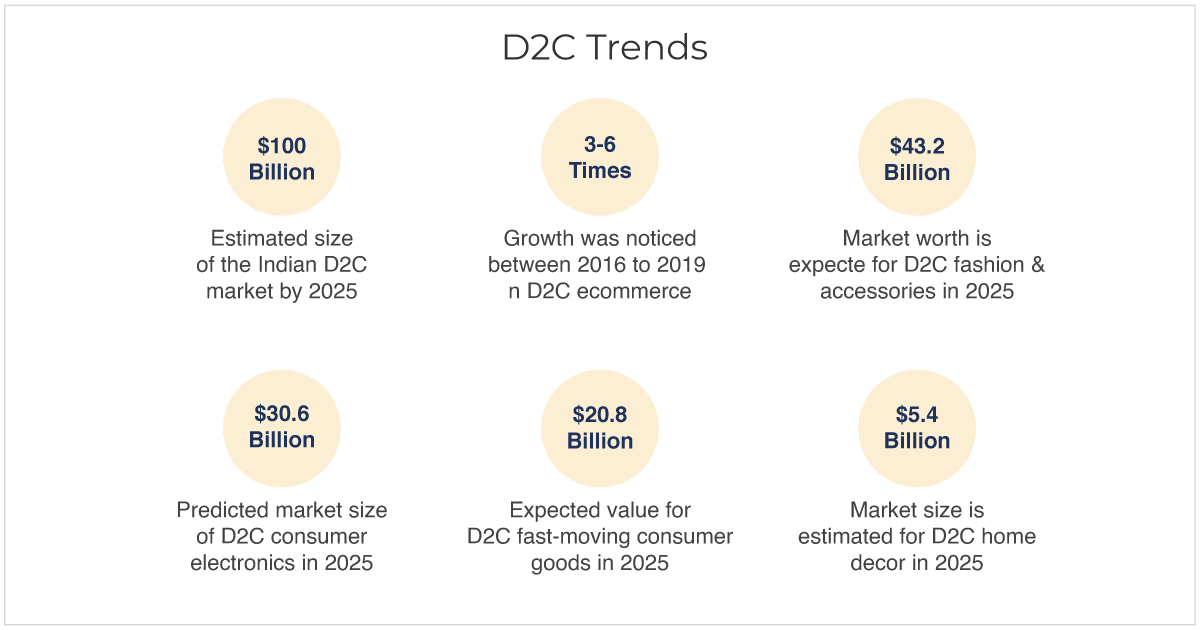 $100 billion is the estimated size of the Indian D2C market by 2025

3 - 6 times of growth was noticed between 2016 to 2019 in D2C ecommerce

$43.2 billion of market worth is expected for D2C fashion and accessories in 2025

$30.6 billion dollars is the predicted market size of D2C consumer electronics in 2025

$20.8 billion is the expected value for D2C fast-moving consumer goods in 2025.

$5.4 billion in market size is estimated for

D2C

home decor in 2025.
So why do customers prefer and will prefer D2C businesses in future? Answer is greater convenience, better prices, personalized customer journey, free returns and delivery, direct communication, omnichannel shopping, etc.
Final Words
It can be a hard task to build an online store, but not impossible. Definitely, an advanced technology platform like StoreHippo can help you build an online store in no time with the least coding and cost-effective way. Using StoreHippo brings you immense benefits —
Significant decrease of maintenance costs, as StoreHippo takes responsibility for software security and maintenance

Get Inbuilt tools to reduce the cost and time of integrating expensive plugins

Mobile-friendly themes and sites, no need for extensive mobile optimization

Support for omnichannel commerce

Endless customization capabilities and flexibility

Support for multiple business models — B2B, B2C, and D2C
Sign up for a 14-day free trial to see how StoreHippo helps your business to grow and win in the technologically progressive ecommerce market.