Have you ever wondered how Mobile commerce has burst into the mainstream and changed our shopping behavior? Since there are more than 3 billion people in the world who use smartphones, it means that about 48.20% of the world's population owns a smartphone !!
Let's take a look at some of the facts: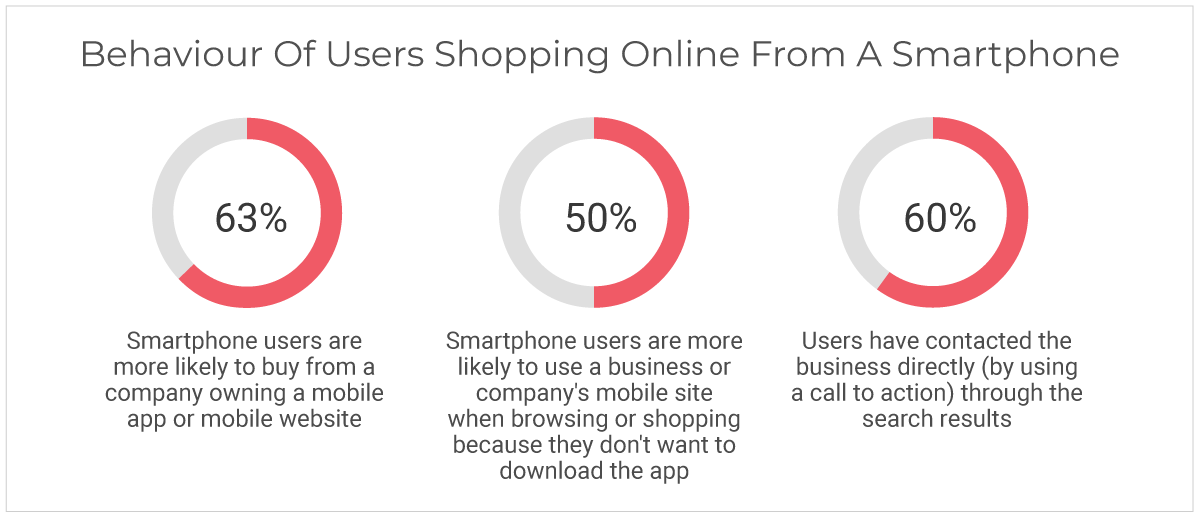 63% of smartphone users are more likely to buy from a company owning a mobile app or mobile website

50% of smartphone users are more likely to use a business or company's mobile site when browsing or shopping because they don't want to download the app

60% of users have contacted the business directly (by using a call to action) through the search results
(Source: Google )
These results reflect the changing consumer shopping behavior and the importance of having an app or PWA . Smartphones have given the consumer the ability to get exactly what they want when they want it.
The next billion consumers are going to find your products first on their mobile phones. Thus, it is essential to know effectively how to reach these untapped buyers. So let's see how a mobile website and mobile apps can benefit your business.
Let us dive into the proven benefits of having m-commerce presence for your brand: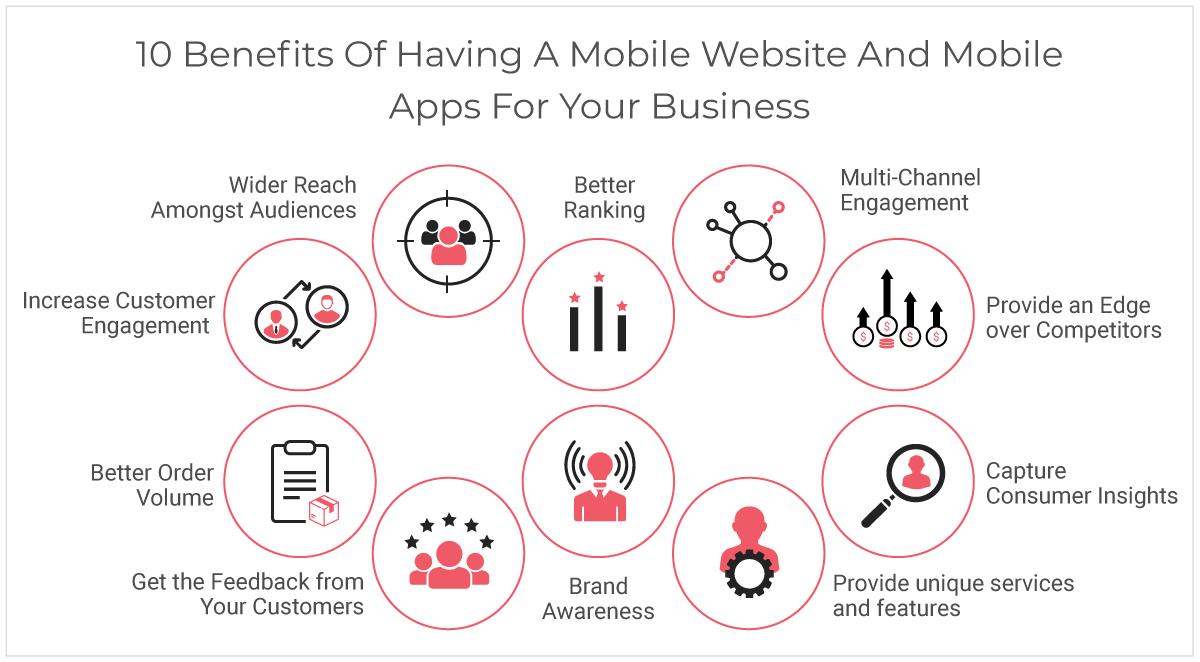 Did you know that over 29% of users worldwide spend 5 hours or more on their smartphones? Mobile gadgets have become the preferred device when consuming online media. By 2021, mobile commerce sales are projected to reach $ 3.56 trillion-up by 22.3per cent in 2020. This is certainly impressive! ( Source : statista )
To take advantage of mobile commerce, brands need to target their audiences where they spend most of the time. Since people are using their mobile phones for their shopping, apps, and PWA can help the brand leverage this exciting opportunity to bring in more customers.
Businesses get an incredible opportunity by leveraging the relationship between the user and their mobile devices. It is well known that engaging customers and building a loyal base of repeat customers is the key to a company's success. So, how do apps and PWA help you?
Well, to increase customer retention and boost profitability, you can integrate a loyalty program into your mobile app. You can send personalized messages, offers, promotions, and discounts to their mobiles so that you can keep them coming back to use your website over time.
Did you know that mobile commerce nudges the users to buy more frequently and place large orders?
A recent study revealed that more than 90 percent of Indian consumers use their mobile devices for making impulsive purchase decisions. It has been predicted that about 175 million Indian buyers will make purchasing decisions from their mobile phones largely due to the convenience offered to consumers in terms of product, service, and content discovery.(Source: Business standard)
Furthermore, m commerce sales will make up for 53.9% of worldwide ecommerce sales by 2021.(Source: Business wire)
This proves that having an app or PWA is not a fad anymore but a necessity for a business that can help them increase sales. As businesses provide more opportunities to a customer to interact with them (in the form of redeemable coupons, notifications, etc.), the more the retailer's value goes up. And thus, the sales revenue from that customer goes up.
Do you know that when buyers are exploring mobile apps and mobile sites, your brand logo or image gets registered in their subconscious? So, think how they may act if they stumble upon your brand product or image multiple times per day. That's right! They will start recognizing the brand almost by instinct.
So, mobile commerce offers you the unique opportunity to help remember your customers who you are and what you do! Apps and mobile websites offer consumers awareness and engagement with your brand. And throughout your interaction with them, you are fostering trust, which results in increased brand loyalty.
.With mobile first indexing, Google predominantly uses the mobile version of the content to index and rank the sites. Since most users now access Google search with a mobile device, Google will show the mobile URL to mobile users and the desktop URL to desktop users.
This means that businesses having apps and PWA versions for their brand will rank higher in the Google search engine. With the help of SEO, mobile websites and apps can help your business get in front of the target audience looking for information on various products and services.
We are in a world, where brands' interaction with consumers is no longer a one-way medium. Every interaction that an organisation has with their buyers has moved from being a transaction to an experience. Mobile has become the go-to medium for businesses to engage with their audiences- either at home, office, at a sporting event, or virtually anywhere! With the help of mobile websites and mobile apps, you can take the opportunity to create a more holistic experience for them. It means that you can reach your customers with the right message, on the right channel, at the right time.
Businesses that desire to compete with others in a highly competitive market should invest in mobile commerce. They must adapt to the new changes with a strong mobile presence. When you offer your brand engagement and accessibility through a mobile website or app, it gives you a competitive edge. Because other businesses in the same domain lacking a mobile presence might not be able to engage customers the way you do.
Do you want to increase your business profitability? Then, Mobile commerce offers you the winning marketing strategy where it allows you to collect user behaviour and purchasing decisions.
Mobile apps and mobile web serve as a reliable and valuable source of consumer insights. With the help of analytics, you can capture:
Number of users

Users' demographics such as gender, age, geographical location, device type, etc.

Keywords that draw the most traffic

Where your traffic is coming from

Your customer segmentation

Metrics of Campaign
These insights will tell you about the customer browsing and buying patterns that help in sending personalized recommendations and deals for faster conversions. These valuable insights can help you mould your business' success strategy . With the help of these data, businesses can evaluate their marketing strategy and strengthen their weak points.
Which brand doesn't want to stay ahead of its competitors? To stay ahead, you have to offer your customers some unique services. By leveraging mobile apps and mobile websites, you can add new features, and you are ready to go! A good app or mobile web should offer unique rich push notifications, click-to-call, click-for-direction, and analytics that impact the quality of your services.
Mobile has become the ultimate source of capturing feedback from users. Widgets, surveys, social media channels, rate my app are some of the feedback mechanisms that can tell you how satisfied your customers are with your brand. In addition, mobile apps and mobile websites offer higher response rates as they are easily available and require low maintenance.
We provide all business owners with all of the above benefits when they power their business with the StoreHippo ecommerce platform. Built ground-up on the mobile-first principle, StoreHippo sites give you a competitive edge.
Let's look at how StoreHippo leverages the power of Mobile commerce to successfully grow your business.
With the best PWA, apps, mobile-optimized site, you get a superfast lightweight website that works seamlessly across all the devices to keep your customers engaged.
You can optimize all your website content and images easily for screens of all sizes. Optimized content flows easily between desktop and mobile devices to provide your users a memorable experience. This lets them keep coming back for more.
Since mobile apps and websites are popular because of their ease of use, StoreHippo facilitates this concept through one-click shopping, faster checkouts, and easy payments. In addition, our platform offers easy navigation and advanced search features for a user-friendly shopping experience.
A great product display lures the audience to your mobile app or mobile website. With StoreHippo, you can display your products to your customers so that they can easily check them on a small screen using zoom and 360-degree view. You can even create videos of products and add them to your store to offer an in-store experience to your buyers.
All stores powered by StoreHippo, are Progressive Web Apps(PWA). This means that they work, look and feel like mobile apps when opened in a browser and work seamlessly even on basic mobile or poor network connections. This feature can help you gain access to hinterland customers where connectivity is an issue.
The ecommerce platform offers you a host of inbuilt marketing tools that can help you maximize ROI. You can achieve a higher conversion rate with multi-level personalized discounts and retarget abandoned carts with auto follow-up. Take advantage of push notifications in mobile apps and send personalized offers to increase customer engagement.
StoreHippo enables simple and faster integration of various social media channels in mobile apps and mobile websites to provide your buyers with the ease of sharing options. This also helps in spreading the word about your brand. Furthermore, you can offer various discounts and coupons to gently nudge them to buy from you using the inbuilt discount engine.
Mobile shopping is pointing to mobile commerce as the future. As a result, you can improve your business process and boost your profitability significantly with the help of an app or mobile site. Getting an app or PWA puts you in the right position to leverage this growing trend.
From branding to customizing to marketing, there are hardly any departments where your business won't benefit from having a mobile website or mobile app. Unlock your business potential to the optimal with m-commerce. Start your 14 days free trial with StoreHippo today.